Listen up: How I Built This
November 1, 2019
/
/
Comments Off

on Listen up: How I Built This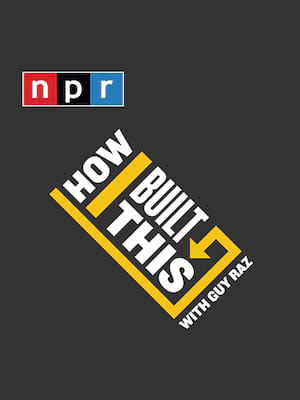 By Lisa Nicklanovich
In the How I Built This podcast, which is produced by NPR and Guy Raz, listeners meet entrepreneurs, innovators and idealists whose companies you are probably familiar with. How did they create and build the world's leading businesses?
Scroll through all the podcast episodes to find one that interests you. I was drawn to companies I have supported and I liked learning about the early days, like when the brothers behind the Life is Good company were selling T-shirts out of their van on college campuses or how the Stonyfield yogurt entrepreneurs were two hippie farmers who sold homemade organic yogurt to raise money for their educational farm in New Hampshire.
I also came to admire the hard work that went into the high-quality products we may take for granted. For example, James Dyson made more than 5,000 prototypes of his bagless vacuum in his backyard shed before starting his company. The founders of Burt's Bees lived off the grid in a cabin in the woods of Maine tending bees before their products were in nearly every grocery store and drugstore in the United States.
Learn how the shoe company Allbirds came to be both comfortable and sustainable, and how companies like the dating app Bumble and a subscription shaving system called Bevel arose out of the personal frustrations of the innovators.
Each episode is about an hour and includes a postscript which either gives a short story about a cool new product (an iPhone case called EyePatch that cleans and protects the phone's camera or an Alaskan bull kelp made into pickles and salsa) or checks back with a CEO or founder to see what has changed since they were last featured.
The How I Built This podcast is on a live tour this year and will be in Denver this month. Audience members and aspiring entrepreneurs can hear insights, big ideas, and unlikely origin stories, as well as discuss them with titans of industry. Past guests on the show have included Reddit founders Alexis Ohanian and Steve Huffman, Starbucks creator Howard Schultz and BET founder Robert L. Johnson. The event will take place at the Paramount Theater in Denver on Wednesday, November 19. For ticket information, visit www.denver-theater.com//theaters/paramount-theater/how-i-built-this-podcast.php. To listen to the podcast, visit www.npr.org/podcasts/510313/how-i-built-this.