Local artist rediscovers her passion Through Wildflowers in the Springtime
June 1, 2009
/
/
Comments Off

on Local artist rediscovers her passion Through Wildflowers in the Springtime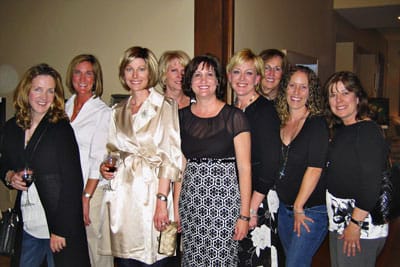 Nancy Meisner surrounded by her friends who inspired and supported her in rediscovering her art. From left to right: Stacy Eberling, Julie Park, Darcy Pierce, Cheryl Utterback, Nancy Meisner, Jeannine Pettaway, Nancy Wood, Heather Allen, and Dorothy Musco.
Article and photos by Carin R. Kirkegaard
With the art show, "Wildflowers in Springtime," local artist Nancy Meisner has rediscovered her passion for art.
Meisner has always had a deep appreciation for art. When she was in third grade she competed in her first art competition and continued competing through her first art exhibition in California at age 21. Her early work was focused on three-dimensional non-objectional pieces.
Now Meisner has found a new focus for her work.
Still working with the idea of three-dimensional art, Meisner has been inspired by the beauty of Colorado and her current art form has manifested in floral arrangements painted in the abstract. She paints using acrylics and modeling paste giving a thick texture to her paintings, so much that the flowers seem to come off the canvas in a three-dimensional way.
Meisner took a break from painting for nearly 20 years. When she picked up her brushes to paint again, that first painting was a collaborative effort with her family. Her children gathered leaves from outside and brought them in to inspire their mom and when the piece was complete Meisner's husband built the frame.
While Meisner was pleased with her own work, it was the support of her girlfriends that held her up and kept her painting.
"I have been blessed and surrounded by supportive family and friends. They inspired and encouraged me to rediscover my passion," said Meisner.
It was hearing that a dear friend in the neighborhood was battling breast cancer that found Meisner painting as a way to express her feelings for both herself and for her friend. It was working through these emotions that created some of the pieces featured in her art show.
As a way to give back in her friend's honor, Meisner donated 15 percent of the total proceeds from the art show to the Breast Cancer Foundation.
Since the show, Meisner has been offered a position with The Art Connection, a company that leases and sells pieces of art to corporations and businesses. In May, Meisner's pieces will be on display at a media marketing company open house in Denver.
Meisner is a commissioned artist and will take requests for paintings. To find out more contact Meisner at Contact by e-mail.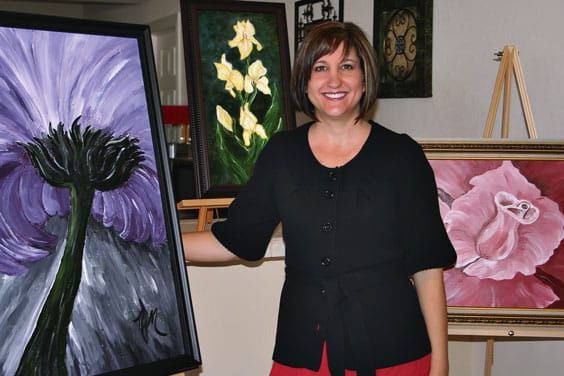 Nancy Meisner pictured with pieces from her recent art show – "Wildflowers in Springtime."