Local Eagle Scout Coordinates Mile Marker Project on CPN Trails
May 1, 2004
/
/
Comments Off

on Local Eagle Scout Coordinates Mile Marker Project on CPN Trails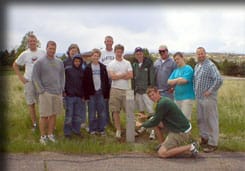 Residents of Castle Pines North enjoy more than 13 miles of trails located throughout our open space areas. Now, thanks to the efforts of a local Eagle Scout, five miles of the CPN trails have new mile markers.
Eagle Scout Adam Brindle, a resident of Surrey Ridge, worked with the Metro District to coordinate the trail marker project. "The Castle Pines North Metro District was very cooperative, and hospitable, in helping me reach my Eagle Scout goals," said Brindle. "I received nothing but open arms from the Metro District and I appreciate their help."
Twenty-one markers were placed every quarter-of-a-mile on the trails located behind the Community Center building to Monarch Blvd. The local Boy Scout Troop #637 was instrumental in completing the project. "We had 16 Scouts along with several parents helping with the project," said Brindle.
Brindle says he hopes the mile markers will benefit the community. "I chose this area because I knew a lot of people use those trails for exercising," said Brindle. "I hope they will be able to track their amount of exercise, and use it to their advantage. Now they can easily determine how far they have gone on the trails."
Brindle, 17, has lived in Surrey Ridge for the past 12 years and is a recent graduate of Douglas County High School. He plans to attend Montana State University this fall.
Special thanks to the following Boy Scouts and parents who volunteered their time and efforts to assist Adam with this project: Ian Andrews, R.L. Boyles, Joe Brindle, Kristi Brindle, Rick Brindle, James Burt, Ryan Day, Andrew Davis, Frank Harris, Travis Haynie, Trevor Haynie, Mark Hefta, Mike Johnson, George Matthews, Linda Nuzum, Michael Nuzum, Kelley Waite, and Zach Waite.
Thanks, Adam, for your contribution to our community!