Local Residents "Thrive" in Energy Drink Market
August 1, 2008
/
/
Comments Off

on Local Residents "Thrive" in Energy Drink Market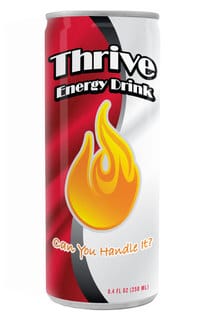 by Terri Wiebold
Thrive – the latest beverage to hit the booming energy drink market is changing the way consumers think about energy drinks, and it is changing the lives of three Castle Pines North residents in the process.
Patrick Drawe of Forest Park, Doug Emerson of Greenbriar, and Rich Marshall of WinterBerry are three of the four founding members of Thrive Energy Drink, Inc.
While working on a business venture together in late 2007, the team decided to go in a different direction and try out the energy drink market.
"We wanted to do something different than what the corporate entities were doing out there, and this project became an animal of its own and took off from there," said Emerson, who is the vice president of operations.
The team launched its product in June 2008. "It has been a lot of hard work for us all, seven days a week to some extent," said Emerson. "We are currently in the process of creating relationships with restaurants, businesses, and vendors to get the product out there."
Although it has not hit many retail stores as of yet, consumers can expect to see Thrive Energy Drink on the shelves of local grocery stores within the next few months. Thrive can be found in some independent stores in the area and in several other states, including Texas and Arizona.
Manufactured in the United States, Thrive Energy Drink is flavorful both on its own and mixed with other beverages, with just the right amount of kick to get its drinkers through the day. Thrive is unlike other energy drinks that taste heavy and over sweetened, or have a bitter aftertaste.
"What sets our product apart is the taste," said Thrive President Patrick Drawe. Thrive is sweetened with the artificial sweetener Sucralose® instead of sugar or Aspartame®. "The smooth flavor is what has really gotten our product moving," he said.
Retailers and consumers who would like to learn more about purchasing a case of canned energy can visit Thrive Energy Drink online at www.thriveenergydrink.com or call 1-888-442-7771.
"This is a fun industry. For now, we are in the middle of the 'hard work' phase," said Emerson. "I think we all look forward to the 'promoting and fun phase' ahead of us."