October 1, 2018
/
/
Comments Off

on Love at first sight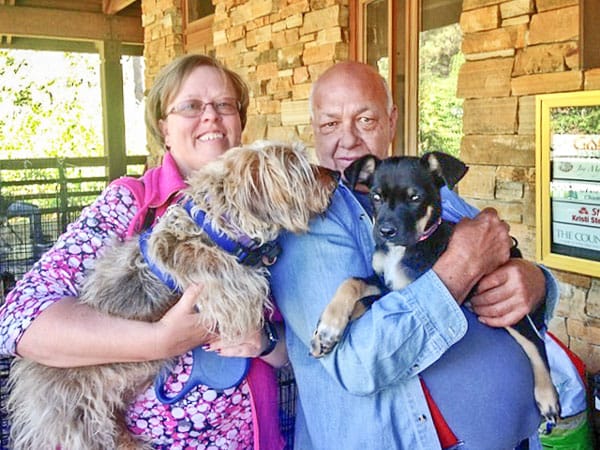 Blind and adorable, this little black puppy (that does not look like it will be little when grown) went home with two loving older adults and their other dog, Frank Sinatra (pictured above left).
Article and photos by Patte Smith
In the July 2018 issue of The Connection, the article "Starting over with pets means work and rewards" emphasized that having an animal to love, especially for senior adults and those living alone, offers tremendous benefits. Bob and Amy Moriarty agree.
The Moriartys traveled from Estes Park in support of the Douglas County Canine Rescue (DCCR) dog adoption event hosted by LIV Sotheby's International Realty – Castle Pines. True dog lovers, the Moriartys fell in love with this little black female puppy that is blind in both eyes.
Bob held the shaking puppy, cuddling it to reassure her that she was safe. Not named yet, the Moriartys said "we are excited to get the little one home and join Frank Sinatra, our other dog" (pictured at left with Amy.) "We are lucky to own a little land where our dogs can get to know each other, run and have freedom to roam around. It does not matter that our new pup is blind." She has found a loving home.
For more information about the DCCR dog adoption event, see related story on page 21 of this issue.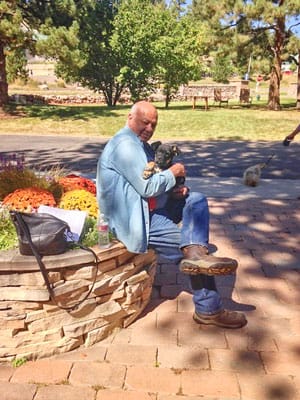 Bob Moriarty could not let go of the new addition to the family, who seemed equally committed to staying in his arms. It was wonderful to see that devotion to an animal.