October 1, 2018
/
/
Comments Off

on Low-residency colleges
Catalin Varela pictured in front of the school's library.
Article and photos by Catalin Varela
I am going to school, but I very rarely GO to school. I mean, it is 2018! Education, just like everything else, is rapidly evolving as our society changes. In the past, it has always been assumed that one would go to college (or what we think of as a "normal" college) after high school. But now, that is not necessarily the path for everyone, not because they are incapable, but because different styles of education work for different people.
What is a low-residency college? In a nutshell, it is a school that allows students to live on campus for a small amount of time and then continue their studies from home or abroad if they are traveling. These schools are a great option for older students who already have a family and responsibilities. They are also a really great option for new students that want a different "college experience" than the norm, and want the flexibility of pursuing their studies on their own time.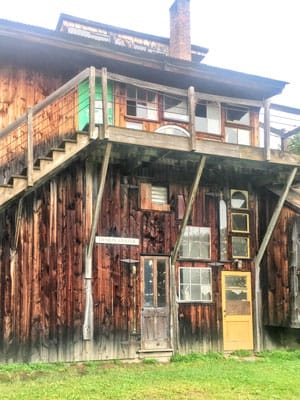 The unique, rustic design center on the Goddard College campus.
This education model allows students to be in the driver's seat of their education. They don't have the structure of attending class every single day and therefore are responsible for keeping up with their academics. Students are able to really design what they want their curriculum to look like to best suit them as individuals. This is, without a doubt, the future of education.
I am over the moon excited to attend Goddard College, a low-residency school in Plainfield, Vermont this fall. I have never been one to love the "traditional" school setting, so it is so exciting to have the opportunity to continue my self-directed learning through to my college degree.
Interested in seeing what life really looks like as a low-residency student? Follow us on Instagram @castlepinesconnection to get a glimpse of my journey this semester.