MacKenzie Grace Foundation Gives Back
April 1, 2009
/
/
Comments Off

on MacKenzie Grace Foundation Gives Back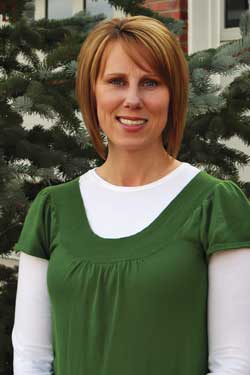 April Parcells

Article and photo by Carin Kirkegaard
MacKenzie Rae Parcells was born a perfectly healthy baby to Castle Pines North residents, April and Bill Parcells. It was at her two-month check-up, when MacKenzie received her DTap immunization that things began to change.
According to April Parcells, co-founder of the MacKenzie Grace Foundation, MacKenzie had a severe reaction to the shot. MacKenzie cried inconsolably, ran a high fever and at the site of the injection had a hard red knot that lasted for weeks. These symptoms are typical in babies after immunizations, but rather than recovering as in most cases, MacKenzie started having severe seizures that eventually caused brain atrophy. In MacKenzie's three years she never developed past that of a newborn.
As MacKenzie's mom, Parcells found her days filled with doctor and therapy appointments. In her spare moments she tirelessly searched the Internet, both for answers on MacKenzie's condition, but also for help in navigating the system of support services for families with a special needs child.
The Parcells family traveled across the United States visiting countless physicians looking for help and answers. They even consulted physicians overseas. MacKenzie passed away just before celebrating her fourth birthday with no known diagnosis.
One of the support systems Parcells found during the three years of MacKenzie's life was friend Kelly Mayr, also a mother of a child with special needs. At age one, Mayr's daughter, Grace was diagnosed with Noonan's Syndrome. Knowing first hand the struggles of raising a child with special needs, Parcells and Mayr decided to form the Mackenzie Grace Foundation (TMGF) in order to help other parents.
"From financial help to waiting on hold with an insurance company, to acting as an advocate, to sitting with a sick child so the parents can get some sleep, the foundation is there to help parents with special needs children in any way necessary," said Parcells.
Operating as a nonprofit tax exempt 501 (c) (3), TMGF holds three fundraisers each year that raise thousands of dollars for families with children of special needs. Fashion for Compassion is held once a year with Macy's Inc. Dreams from Santa holiday party raises funds to help families during the holiday season and the Tee it up Golf Tournament is held in June. In addition to these annual fundraisers, Audience of One, a youth theatre group will hold a performance with all proceeds benefiting the TMGF on April 19.
To learn more about TMGF visit the website at www.themackenziegracefoundation.org.