Madison Amey: from cheering on the sidelines to kicking on the field
October 1, 2019
/
/
Comments Off

on Madison Amey: from cheering on the sidelines to kicking on the field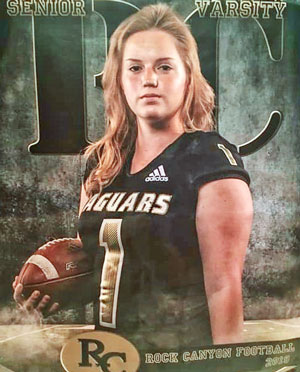 By Carin R. Kirkegaard; Photo courtesy of the Amey family
Madison Amey, senior and back-up kicker for the Rock Canyon High School (RCHS) Jaguars, joined the team as the second female kicker last spring. Due to tendonitis in her hip flexor, she unfortunately has been on the sidelines.
Amey's road to becoming part of the football program started on the RCHS cheer team as a freshman. She cheered through her sophomore year, but was plagued with popping hips. After a visit to the doctor she discovered she had dual congenital hip dysplasia. Her doctor informed her she could either have surgery now to rebuild her hips and correct the problem, or she would probably need a total hip replacement in both hips by the time she was 22.
Amey opted for surgery. She missed nearly an entire quarter of high school and spent her junior year recovering.
During recovery, Amey was missing being part of a team dynamic. She had played goalie on the soccer field for nine years and felt like punting a football would come naturally. Amey started going to the field at Buffalo Ridge Elementary (BRE) to practice her kicks. As she got better she would try for height, working to kick the ball over the garden structures at BRE. Amey also said she trained with former Denver Bronco kicker, David Treadwell.
In the spring, Amey approached Head Coach Brian Tinker about trying out for the football team as a kicker. She made the team and spent the summer as one of the three kickers working out in the weight room and practicing kicks on the field. Unfortunately, Amey's hip flexor started to cause her pain, limiting her practice time and benching her for games.
Graduating in May, Amey has already been accepted into her two top college choices. The University of Alabama is her first choice and Texas Tech University is her second. Her intent is to study premed as an undergraduate and attend medical school emphasizing in genetic oncology. Her ultimate goal is to find a way for cancer patients to not need chemotherapy as a way to fight cancer.