Master Association Examines Xcel Energy Expansion Plans
June 1, 2007
/
/
Comments Off

on Master Association Examines Xcel Energy Expansion Plans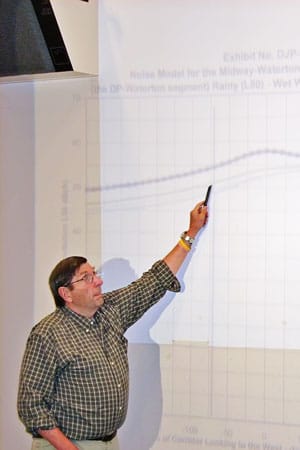 Metro District Board Member Bruce Thompson discusses the impact of noise pollution for the CPN community.


by Lorraine Masonheimer
Castle Pines North (CPN) residents attended an informal meeting on May 31 to hear details regarding the power line expansion proposed by Xcel Energy to the Public Utilities Commission (PUC) earlier this month. The meeting was held at 7 p.m. at the Community Center where Metro District vice president, Bruce Thompson, outlined Xcel's plans to replace the existing single circuit transmission line with a dual circuit transmission line running from Daniel's Gate Substation west to the Waterton Substation. The lines will run east-west parallel to the Daniel's Gate Substation located just off Monarch Boulevard north of Daniel's Gate, behind the Serena neighborhood.
Xcel's plan minimizes the impact of noise pollution and EMFs (electromagnetic fields) to CPN residents. While Colorado statutes set the noise limit at a maximum of 55 dB (decibels) and EMFs to a maximum of 150 mG (milligauss)—Xcel Energy's plan holds audible noise to 49.8 dB and EMFs to 30.3 mG.
After questions from residents were heard, it was determined Xcel Energy's proposed expansion plan was required to meet the growing energy demand for the Front Range. "Intervening would be ineffective," said Thompson. "Xcel has put together a reasonable plan keeping noise and EMFs below the state statute."
The PUC is expected to make a ruling in December 2007. If approved, the project will be complete in May 2010. Construction is expected to take three to four months, weather permitting.
Thompson will continue to monitor the expansion plans and provide progress reports to the Master Association and residents.
For more information, please e-mail Contact by email.