Medical and beauty treatments at new day spa in Castle Rock
August 1, 2012
/
/
Comments Off

on Medical and beauty treatments at new day spa in Castle Rock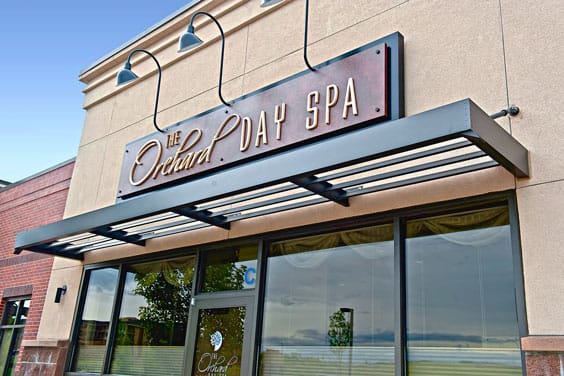 The Orchard Day Spa in Castle Rock offers something for everyone in a warm and welcoming environment.
By Amy Shanahan, photos courtesy of Lisa and Ted Manzanares
The Orchard Day Spa opened in Castle Rock in May, and is the only spa of its kind in the area. The day spa offers both medical and beauty treatments in a beautiful, relaxing setting. The soft muted colors, beautiful art work, infused water, and specialty treats make the clients feel relaxed immediately upon entering.
Owner Lisa Manzanares has spent the past ten years in the aesthetics business and is passionate about her industry. "Our spa is redefining the idea of a day spa by providing relaxation and beauty treatments along with medical beauty treatments," Manzanares remarked. "Our staff is highly trained and experienced—no one here has less than 10 years experience."
Our Colorado News community newspapers, just released the winners of its annual contest "The Best of the Best" and named The Orchard Day Spa best day spa, best medical aesthetics, and best new business.
The Orchard Day Spa is conveniently located behind the AMC movie theater in Castle Rock, and offers a wide range of services, including traditional spa services like massage, tanning, waxing, facials and eyelash extensions. In addition, medical services such as Botox and Juvederm, and laser treatments, are performed by a certified laser technician and injection specialist.
Manzanares' husband and co-owner Ted Manzanares remarked, "Results-oriented skin care is what we're all about. It's all about our clients, and helping them feel and look good."
The spa offers monthly specials and events throughout the year. During the month of August, it is offering one free facial waxing service to all new guests (choose brow, lip, chin, nose or ear waxing) with no purchase necessary. Additional promotions include a free lush full set of eyelash extensions to new guests with the purchase of the Essentials Kit, and a free full size Organic Sugar Body Polish with the purchase of a tanning package.
On Thursday, August 23, the spa will host a live injection event from 5 p.m. to 8 p.m. This open house event will allow interested guests to see injection treatments like Botox being performed. Appetizers and beverages will also be provided, along with door prizes and fantastic specials for attendees. "We do everything we can to make it feel like a special treat to be here," remarked owner Lisa Manzanares.
The Orchard Day Spa is located at 3740 Dacoro Lane in Castle Rock. For information about monthly specials and for a list of services, call 303-284-4270 or visit www.TheOrchardDaySpa.com.