Oak Hills princess rides Castle Pines
August 1, 2012
/
/
Comments Off

on Oak Hills princess rides Castle Pines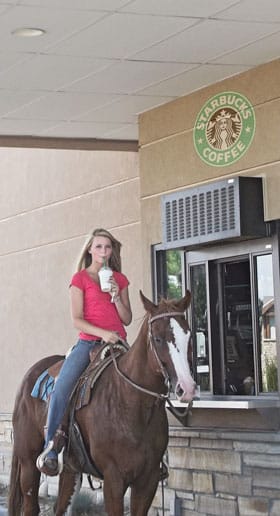 Anastacia Bodnar loves to visit her favorite coffee shop in Castle Pines, Starbucks, equestrian style.

By Kathy Dunker with photos courtesy of the Bodnar family
The Douglas County Fair is just around the corner, running from August 7 to 11. Oak Hills resident Anastacia Bodnar will be there – not just for the corn dogs, but as the 2012 Douglas County Fair and Rodeo Princess Attendant.
Fourteen-year-old Bodnar, who has been riding horses since the age of six, is a member of Douglas County 4H and the Mile High Barrel Racers. Barrel racing is a rodeo event where the rider attempts to complete a clover-leaf pattern around preset barrels in the fastest time.
Bodnar, who will be a Freshman at Valor Christian this fall, has not one, but three horses. Two of Bodnar's horses are American Quarter Horses (AQA), which is a breed that excels at sprinting short distances. Horse number three is an American Paint Horse (APH), which combines the characteristics of a Western Stock Horse and the spotting pattern of a Pinto. Western Stock Horses work well with livestock such as cattle.
Bodnar's AQA horse, Taco, is now 19 years old and has won six Grand Champion buckles and countless ribbons and prizes over the years. Bodnar's new AQA horse, Bobbi Jo, will be barrel racing this fall. And last but not least, APH horse, Pal, is a 16-hand-tall horse that Bodnar will be riding at the Douglas County Fair in both English and Western disciplines.
Pal and Taco, who have both competed at the National Western Stock Show, can frequently be seen around town. Bodnar enjoys riding them to Coyote Ridge Park and even rides horseback through the drive thru window at Starbucks on Castle Pines Parkway. Pal and Taco both love children and the kids get a kick out of seeing a horse riding through the park and through town.
Bodnar recalled, "As a 6 year old cowgirl dressed in red boots, a hat, and a denim skirt, I strode up to a beautiful young lady with a sparkling shirt and a crown on her hat. She got down on her knees, asked me a million questions about my horse and my life. She was Miss Rodeo Colorado and I was hooked! I took her autographed photo home and nailed it to my bedroom wall and I knew someday I would be in her position."
"As a Douglas County Rodeo Princess Attendant, I have had the opportunity to visit rodeos from Castle Rock to Cheyenne. Riding in the Rodeo Grand Entry is an honor and thrill like no other," she said. "But, when it comes right down to it, I LOVE getting down on my knees and looking into the eyes of the children I have had the honor of meeting. Douglas County is where I was born and raised, and I am proud to represent both the rodeo and the county!"

Oak Hills resident and Douglas County Fair and Rodeo Princess Attendant Anastacia Bodnar with her American Paint Horse, Pal, at the Elizabeth Stampede.