November 1, 2007
/
/
Comments Off

on Meet Maureen Shul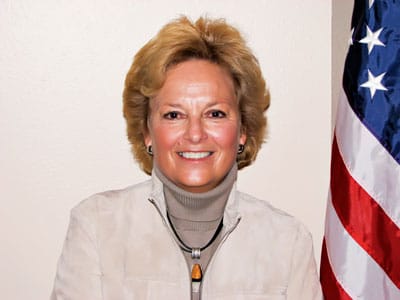 Maureen Shul, President Castle Pines North Master Association

by Lisa Crockett
The rewards of climbing one of Colorado's famous "Fourteeners" (a peak above 14,000 feet elevation) are great: spectacular vistas and the satisfaction of accomplishment. Just ask Maureen Shul, a Castle Pines North resident who is currently serving as the President of CPN's Master Association and leader of the CPN Preservation Committee.
"I climbed my first Fourteener with my brother Brian," said Shul. When we arrived at the mountain, we looked up and saw the peak and said, 'There's no way. We'll never make it.' We decided that the only way we would make it was to simply concentrate on the next step and not think about making it all the way to the top." Several hours later, Shul and her brother were enjoying the view from the peak.
A successful businesswoman and a dedicated community volunteer, Shul often sets her sights on lofty goals and then employs her "one step at a time" philosophy to get there. Fresh out of college, Shul had a fervent desire to make a difference in the world and landed a job on Capitol Hill in Washington.
"I worked as a Legislative assistant," said Shul. "After being there for some time, though, I realized that for all the excitement of living and working in Washington, D.C., it was an existence far removed from the real world, and one could make a contribution in other ways."
Shul landed in Colorado, ostensibly to earn a Master's degree. However, she found that the considerable knowledge she gained in Washington was of tremendous use to Colorado's senior citizens.
"I learned a lot about Medicare and Medicaid while I worked in D.C., and so I established a brokerage firm to help retirees with their estate planning and insurance. This is a population that can be very vulnerable to bad advice and dishonesty, so I feel assisting them allows me to make a positive difference."
This passion for working with seniors took an unexpected turn when Shul's mother was diagnosed with Alzheimer's disease six years ago. In addition to regular trips to Florida to visit her mother and aid her father in his care giving duties, Shul has immersed herself in the Alzheimer's Association.
Shul co-facilitates a support group of family members of Alzheimer's sufferers and along with Colorado State Representative Victor Mitchell, was instrumental in having a program called "Project Lifesaver" become available on a statewide basis in Colorado. The program, which was signed into law in May, fits Alzheimer's sufferers (and people with other neurological disorders) with a wristwatch-sized tracking device which allows them to be found quickly if they wander off.
"Grief forces you to choose certain paths, and I'm thankful I could channel mine into something positive that will be of help to others," Shul states.
Shul has been very involved in the CPN community since arriving here, serving as the Bramble Ridge HOA president (a post she still holds in addition to being President of the Master Association).
After being elected Master Association President last year, Shul was settling in to her duties when CPN residents started talking about an article they had seen in the Denver Post regarding Castle Pines Village's plan to incorporate.
"We found out that Castle Pines Village was looking at incorporation and that they were going to include CPN's business district in their incorporation map. It was obvious from the beginning that this was not right and that we had to protect our community as well as search for some sort of compromise," said Shul.
Shul led the CPN Preservation Committee during the entire incorporation effort. The speed at which decisions had to be made, along with the urgency of the matter was a bit of a surprise to Shul, but she dug in with characteristic determination.
"This discussion about incorporation has been a long time coming" said Shul. "This was our one opportunity to have this community dialogue as to what is best for the future of CPN. If we had let it pass us by, we would have never had this chance again."
Despite the massive workload associated with incorporation this past year, Shul was thrilled that the vote for incorporation was supported by CPN residents by such a large margin.
"I see such great things for this community," said Shul. "Incorporation gives us so much more control over our own destiny. It's a victory for the entire community. Of course there will be some growing pains. We will have to work hard as a community to establish the kind of city we want, but ultimately we will be in control rather than another municipality or the county."
Shul is not sure what the road ahead will bring, but does not need to look far for inspiration in meeting whatever challenges await.
"My brother Victor courageously faces his battle with cancer every day. One just needs to have faith, keep it all in perspective, and take it one step at a time."