Memories to last a lifetime
January 1, 2016
/
/
Comments Off

on Memories to last a lifetime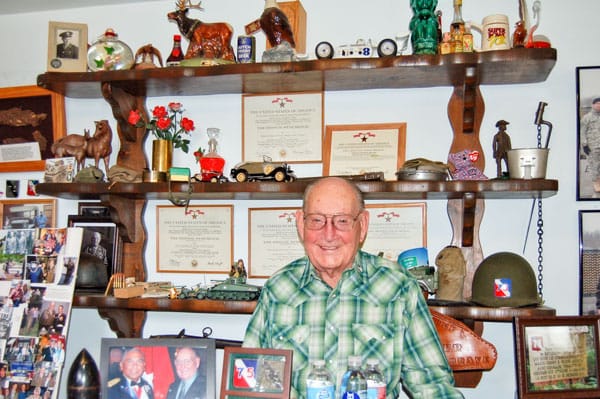 Bill Brunger thoroughly enjoys taking neighbors and friends through his basement which is loaded with war memorabilia, including maps, photos, and his numerous medals for bravery.

Article and photos by Amy Shanahan
Wilbur "Bill" Brunger is known to so many throughout Castle Pines as a wealth of information regarding World War II, but also as a dear person with a love for life and a twinkle in his eye. Now 92 years old, Brunger is a highly decorated and respected veteran of WWII, who delights in sharing his memories, photos and artifacts from a period of life that affected him so greatly.
At the young age of 19, Brunger was drafted to serve in the army at the height of America's involvement in WWII. The year was 1943 when Brunger left his home in south Denver to attend basic training at Fort Belvoir, VA, the home of the Army Engineers. Brunger trained with the Engineers and was later admitted to the Air Corps. The evening before he flew his first solo flight, he was called up to fight with the infantry on the ground. Brunger was never able to realize his dream of flying and his life was forever changed.
Brunger was shipped overseas with 4,000 other young men who were part of the 75th army division, on a former British luxury cruiser designed to hold 400. Upon arrival in Europe, Brunger and his fellow soldiers assumed they would be part of an occupation division, as the war was coming to an end. However, the German army had other plans, and Brunger found himself in his first combat situation during one of the largest and bloodiest battles of the war, the Battle of the Bulge.

Bill Brunger proudly displays his Eisenhower jacket. The jacket was developed by the Army during the latter part of WWII, and Brunger uses it to display his numerous medals – including his five Bronze Stars, his French Legion of Honor medal, the Combat Infantry Badge, and numerous others.
Thirty divisions fought in this historic battle and the American casualty rate topped 80,000. Brunger's company started with 186 men and 30 days later, only 20 had survived. "It was our first experience in combat, and we had no idea what to expect," explained Brunger. "There were Germans all around, many dressed in American clothing. We started out shooting at everything but quickly learned that's the dumbest thing we could do, as it only brought on more soldiers and more fighting." On only his seventh day in combat, Brunger earned his first Bronze Star for heroism in action when he and two other soldiers pulled a wounded soldier from their tank and carried him to safety by using a door that they surreptitiously acquired from a nearby farmhouse, under cover of smoke from their smoke bombs, and under the nose of German soldiers. Freezing temperatures played a significant role in this battle as trench foot and neuropathy plagued the American soldiers. Brunger still takes nerve medication for his feet. "I've learned to handle pain pretty good," Brunger remarked with a smile.
After 30 days of service, Brunger was promoted from corporal to platoon sergeant, and he went on to participate in two more battles, the Battle of Alsace Lorraine, and the Battle for Central Europe, during which he earned four additional Bronze Stars. Brunger served for a total of three years, and at the end of the war, he came back to Denver to be with his wife and family.
Brunger has had numerous opportunities to visit the sites of the historic battles that shaped his life. Along with his second wife Janet and other members of the 75th Division, Brunger has returned to the battle sites in Europe, visited the monuments in Washington D.C., and participated in numerous ceremonies in honor of his service to our country. Brunger is reflective about his time in the service, "You didn't have time to think about God in combat but I know it gave me confidence that I could do my job and not worry about what was going to happen to me."
In addition to the five Bronze Stars, Brunger received numerous medals and badges which he proudly displays in his home. Three years ago, Brunger was honored to receive the French Legion of Honor, which is the highest decoration in France. Brunger is proud of the time he served. "We won the war and stopped the Germans. It's hard to understand now how much bad the Germans and Hitler did, but everybody I knew of was proud to serve their country. Every soldier did what they were asked to do."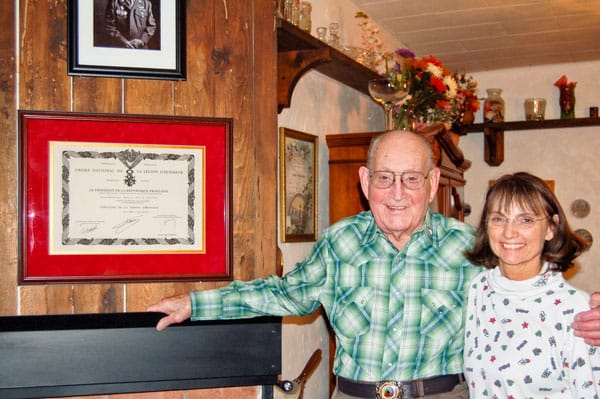 Following the war, Brunger worked in the plumbing business that his father started. He and his wife Janet now enjoy spending time with Brunger's five children, and numerous grandchildren and great-grandchildren.