Metering Light Study to Begin at Castle Pines Parkway and I-25
August 1, 2007
/
/
Comments Off

on Metering Light Study to Begin at Castle Pines Parkway and I-25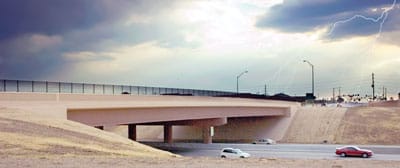 by Lisa Crockett
The Castle Pines Parkway interchange will soon be part of a metering light study conducted by the Colorado Department of Transportation (CDOT).
"We'll be looking at every interchange on I-25 between County Line Road and Wilcox/Wolfensberger in Castle Rock," said CDOT Spokesperson Bob Wilson.
Douglas County's growing population means increasing backups on freeway on- and off-ramps, especially during peak travel times. Metering lights can minimize backups upon entry to the freeway.
"During the study, we'll be taking traffic counts, looking at the back-up and generally looking to see what will enhance movement on the ramps," said Wilson.
The study is slated to begin sometime in late summer or early fall, but as of press time the exact date and duration of the study had not been determined.
"If it is determined that metering lights will alleviate traffic problems at the Castle Pines Parkway interchange, the infrastructure is already in place," said Wilson. "When we upgraded the ramp a few years ago, the wiring for metering lights was laid at that time."