Market in the Pines Provides Unique Shopping Experience
August 1, 2007
/
/
Comments Off

on Market in the Pines Provides Unique Shopping Experience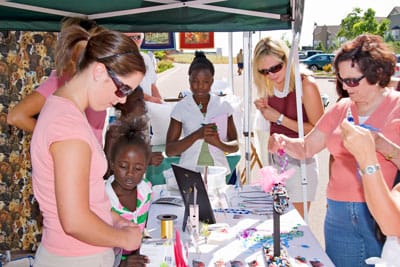 CPN residents and visitors took to the streets for Market in the Pines on June 9 and July 14. Two additional Markets are planned for August 11 and September 8. (photo by Tim Gamble.)


by Elean Gersack
Market in the Pines debuted in Castle Pines North (CPN) on Saturday, June 9 and then had a repeat performance on Saturday, July 14.
With open-air shopping and artisan vendors, Market in the Pines is a monthly summer event created by the Business in the Pines Association. The next market is planned for Saturday, August 11.
From jewelry, fresh produce, hand painted furniture, fresh flowers, handbags, baby products, pet stuff, yoga attire, kids robes and more, families enjoyed a reason to venture to the CPN business district on two Saturday mornings.
Artisan vendors participating in the markets thus far, include: Beijo Bags, Bubble Goddess Bath Company, Business in the Pines, Castle Pines Village Realty, Catson Collections, Cherry Cupcake Clothing, Cookie Lee, Custom Closets West, Gary Reed-Entre Vous, Katherine Dowd, Livvy Loo, Melearias Art Rox, Plum Creek Catering, Posh Josh, PTC LLC, Ruby Corporation, Sassy Stuff, Simply Yours, The Pet Stuff Place, Your Own Imgages, Zikity Kins, and The Hidden Gem, Inc., A Pocket Full of Bowies, Baby Breaux, Blacksheep Design, Dutch Produce, Designs by Dio, Essence of Rance, Moore Comforts, Pottery Adventure, Sassy Shirts, LLC, Sisters from Sudan, Snow Creek Ranch, The Bundt Shoppe, The Treasure Market, Tropical Items Madagascar, and Windspirits.
According to Business in the Pines vice president, Carla Kenny, having the first two markets was a tremendous step toward creating a regular event that will draw people back month after month. "Market in the Pines will only be enhanced and grow from here," said Kenny.
During the markets, local resident and home-based business owner, Jennifer Leete, enjoyed many visitors to her Bubble Goddess Bath Company booth. Leete makes natural soaps, oils and lotions in the basement of her CPN home. "I have a culinary background, love to bathe and wanted to be home with my son, so I decided to 'cook up' bath products about two years ago," said Leete. Leete recently joined Business in the Pines as a way to network locally.
During the June and July markets, Plum Creek Catering sold homemade goodies such as breakfast burritos, cookies and banana bread. Allison Prescott, owner of Plum Creek Catering, recently began renting kitchen space from CPN business, Castle Cones. Prescott joined the Business in the Pines Association to become more involved in the community. "I was happy to join. It takes a lot of work for local businesses to be successful – meeting more people and having more exposure is good for all of us," said Prescott.
During the July market, representatives from the Douglas County Division of Parks and Trails hosted a presentation entitled "Living with Wildlife."
Market in the Pines is sponsored by Castle Pines Village Realty, Bumgardner and Linn Orthodontics, Fox and Norwood Pediatric Dentistry, the Business in the Pines Association, and the Castle Pines North Master Association.
Remaining summer markets will be held on August 11 and September 8 – from 8 a.m. to 1 p.m. Thanks to the Castle Pines North area Safeway and Starbucks for donating water, donuts and coffee for the markets.
To learn more, visit www.businessinthepines.com or call 303-688-5656.