Movie and wine night with a message of hope
March 1, 2017
/
/
Comments Off

on Movie and wine night with a message of hope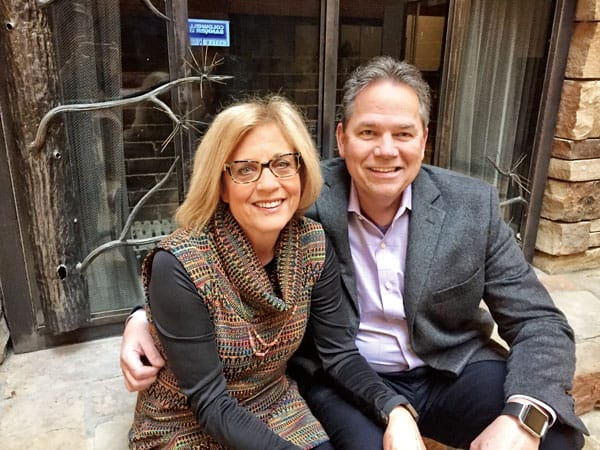 Joy Myers and E.J. Barklage are hosts for free movie and wine nights in Castle Pines. The events include a showing of a talk from Dr. Brené Brown as well as wine from OneHope. Myers and Barklage have their own careers helping others and they work together leading workshops.

By Lisa Nicklanovich; photo courtesy of Joy Myers
Joy Myers is a licensed psychotherapist with an office in Castle Pines who has 30 years of experience working with individuals and couples. Myers is married to E.J. Barklage, the executive director at Karis Community in Denver, a mental health community of hope and healing. The couple, who have been married for 28 years, became Daring Way facilitators which certifies them to share the methodology of Dr. Brené Brown. Myers and Barklage are now working together to bring workshops and classes to the community.
The couple hosted a free movie and wine night on January 20, which wove together the couple's mission to bring hope to those who need healing and encouragement to those who want to live a life of authenticity. They showed Dr. Brené Brown's talk on "The Hustle for Worthiness", which explores the power of love, belonging and being enough. While guests nibbled on snacks, Laurie Probsdorfer poured wine from OneHope, a cause-centered company with a mission to give back 50 percent of all profits to a variety of causes. The evening benefited the cause associated with each wine purchased as well as Karis.
Both Myers and Barklage practice with the underlying belief that everyone longs for relationship, love, and belonging. The lack of this basic human need can lead to feelings of hurt and frustration or not feeling worthy of love and belonging. Myers said, "I would like to give people a sense of hope. Something beautiful can be created out of the struggles people are in and whatever pain they are going through."
Barklage facilitates a Rising Strong group at Karis, where he has found Brown's work helps people heal from those "face down moments in life where you made a poor choice, or had an experience that didn't turn out the way you wanted it to; there is the ability to rise from it and to write a new ending to the story you find yourself in."
Myers added, "We like to do the couples work together; it has worked really well because of our comfort level with each other. We can share stories that couples relate to and we have fun." Another free movie and wine night is set for March 17 at 6:30pm at 482 W. Happy Canyon Road. To register, email joy@joymyers.com. To learn more about all upcoming events and workshops, visit www.joymyers.com.