January 1, 2019
/
/
Comments Off

on Music for the Soul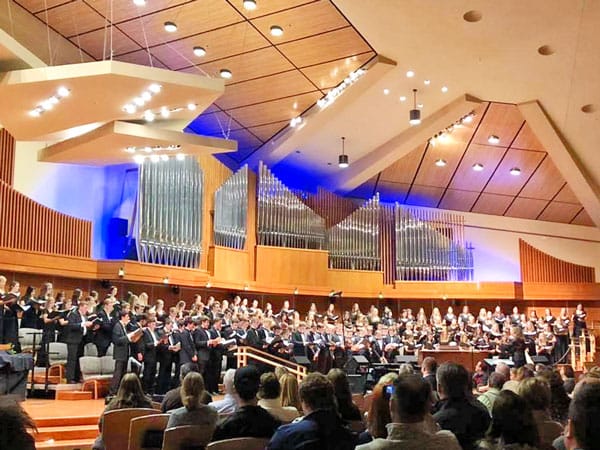 By Lisa Nicklanovich; photo courtesy of Corin Meibos
There were some very powerful moments at the Rock Canyon High School (RCHS) choir concert that took place December 11 at St. Andrew United Methodist Church in Highlands Ranch. The evening featured the four choirs of RCHS: Women's Choir, Men's Choir, Women's Select Choir, and Select Mixed Choir.
Julia Dale, RCHS director of vocal music, said she called the evening "Music for the Soul" because "we were hoping that everyone would be touched in some way. Some people just needed to sit back and relax after the craziness of shopping, wrapping or party planning, while others were looking for something a little more meaningful – perhaps because this is their first holiday season without someone special. Others just wanted to get in the holiday spirit. Our concert touched on all of these throughout the evening."
One of the more poignant and memorable moments of the evening was when the women's select choir performed "Hands," a piece commissioned for the choir from the words of a poem written by Polly Poindexter, former beloved RCHS registrar who passed away this past summer.
Hands
Poem by Polly Poindexter
I give my hands to you this day.
Remember me now, before I go away.
They have given warmth to heart and soul.
They have taken care of young and old.
They show the signs of age earned.
Each crease and crack, a lesson learned.
My hands extend into the world they came.
Outreached to all, they will leave my name.
The poem was discovered in Poindexter's office and Andy Abner, principal of RCHS, shared the poem during her memorial service. Dale said, "I was touched by the poem and knew it had to be set for a choir. I sent the poem to Colorado composer Kevin Padworski to honor our beloved Miss Polly."
Padworski, who had written commissions for Carnegie Hall as well as choirs all over the nation, set the piece for piano, cahon (a percussion instrument), 3-part women's choir and clapping. Dale added, "It is an amazing piece which captures both our sadness in losing Polly, but also her bright, cheerful, giving nature. It is our hope that Polly's words will not only inspire our RCHS community, but students all around the world for years to come when the piece is available to other groups after our premiere." To view a short video prepared about the poem, visit www.facebook.com/219890365800/posts/10156662619475801/.
Other highlights from the evening included the men's choir, which brought their usual flair to the concert, humoring the audience with their spirited choreography and costumes. The women's choir sang a fabulous arrangement of "S'vivon," which tells the story of a spinning dreidel. The evening concluded with the singing of "Silent Night" while everyone held a lit candle — a choir concert tradition.
The evening also celebrated outstanding choral students who were accepted to the Continental League Honor Choir and Colorado All-State Choirs. Dale said, "with 16 students accepted to both choirs, it's amazing to know we have such depth in the program. They will now prepare pieces to perform with outstanding conductors in mid-January (Continental League) and early February (All-State). These are sure to create lifetime memories for these students."
Abby McLain, a senior in Mrs. Dale's choir program said, "It was very moving to perform each of the 11 pieces I was a part of, especially singing "Silent Night" and leaving the concert hall with my friends for the last time. It was a deeply emotional and moving concert and was an excellent representation of what it means to be involved in this program. In both of my choirs, students are pushed to be the very best of themselves, both musically and as human beings, and I think that this concert was a testament to that and our hard work as a choir family. I couldn't imagine a high school experience that didn't involve the type of community and joy that I get from singing in choir."