New fitness brand encourages women to defy their body!
December 1, 2014
/
/
Comments Off

on New fitness brand encourages women to defy their body!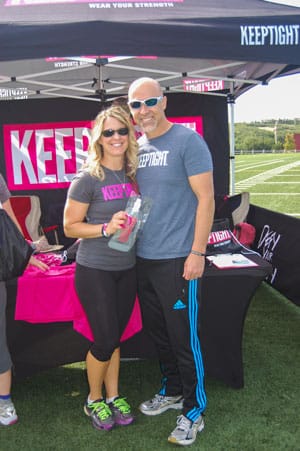 Melanie and Eric Burke hosted a tent at the Castle Pines Run Wild event where they showcased their new brand of workout gear that is specially designed for women. KEEPTIGHT is officially launching and taking orders beginning December 4.

By Amy Shanahan, photo courtesy of Eric Burke
Castle Pines residents Eric and Melanie Burke have taken their passion for a healthy lifestyle and turned it into their dream business. On December 4, the Burkes will officially begin shipping product for their business KEEPTIGHT, a new fitness brand for women that features a full line of workout gear and accessories.
The Burkes are both very active individuals who feel strongly about leading a healthy lifestyle. Melanie, an elementary school teacher and Eric, a technical engineer, spent several years exploring options for a home based e-commerce business, and KEEPTIGHT fulfilled their desire for a business that conformed to their lifestyle.
The Burkes have worked with the very best designers, manufacturers and fabrics for their clothing items. Their designer has designed clothing and accessories for Burton, Volcom, Asics, Dakine, and others and they are thrilled with the end result. KEEPTIGHT will launch with fully custom fitness hoodies, capris, shorts, a fitness shirt, fitness tank, and t-shirt. They also have a custom branded wristband that was designed in Croatia and built specifically for women.
Eric Burke remarked, "Nowhere else will you find the attention to detail and sheer visual connection women have with a brand. We spent considerable time and effort perfecting all aspects of the brand before designing one piece of gear. KEEPTIGHT isn't simply a brand name and logo, it's a fitness identity. Its meanings are numerous. Our colors and our messages have been specifically chosen to connect with women and their preferences when working out."
The Burkes are excited to bring their new brand to the Castle Pines community and already have numerous followers here and throughout the world. The KEEPTIGHT brand has a strong following on Instagram and Facebook, and their followers are excited to order the full line of products. Eric Burke further remarked, "Our customers are extremely health-conscious, especially when it comes to fitness, nutrition, and hitting the gym. They love challenges and train without wasting time. They are independent, strong, forever-smiling, smart, determined and a fan of a well-balanced, healthy diet. They are an inspiration to their friends and families. They are fighters, leaders, relentless, sharp and unchained. These women now have a brand they can call their own."
To learn more about KEEPTIGHT, please look for them on Instagram or Facebook, or visit their website at www.keeptight.com.