New Plans Announced for CC-20 Parcel to Include Residential and Commerical Development
April 1, 2006
/
/
Comments Off

on New Plans Announced for CC-20 Parcel to Include Residential and Commerical Development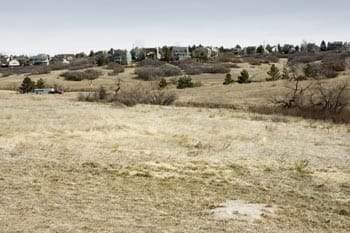 Homes in The Retreat overlook CC-20, located on the northwest corner of Castle Pines Parkway and Monarch. Village Homes has announced new plans for the 15.7-acre parcel. (Photo by Tim Gamble.)


by Lane Roberts
After two years of negotiations, the northwest corner of Castle Pines Parkway and Monarch Boulevard may soon be getting a facelift.
Following preliminary discussions with Douglas County Planning, representatives from Village Homes recently met with a small group of Castle Pines North (CPN) residents to present a second conceptual design for development on CC-20. Located in the heart of CPN, the parcel is currently zoned for commercial development and is owned by Village Homes and Pinark, LLC.
In late February, Village Homes Representatives Ron Skarka and Bill Jenkins discussed the new proposal with CC-20 committee members Jonette Brown Eyes, Dennis Kuhlman, Ryan Palazzo, Ralph Kuehn, along with Bruce Thompson, Vice President of the CPN Master Association and Castle Pines Parks Authority board member.
"We discussed the entire proposal with Village Homes and we were very pleased with their plan," said Jonette Brown Eyes, CC-20 Chairperson. "While many residents would have preferred to keep the land as open space, it was not a viable option. Village Homes has looked at research from homeowners and has worked hard to meet the needs of our community."

What Does the New Plan Include?
The map to the right provides details of the proposal. Village Homes currently plans to split the parcel into two areas featuring both residential and commercial developments.
The north area, adjacent to the Stonecroft neighborhood, is expected to feature approximately 27 patio homes and 20 town homes. A bike path is also proposed north of the patio homes, allowing access from Monarch Boulevard to Timber Trail Elementary.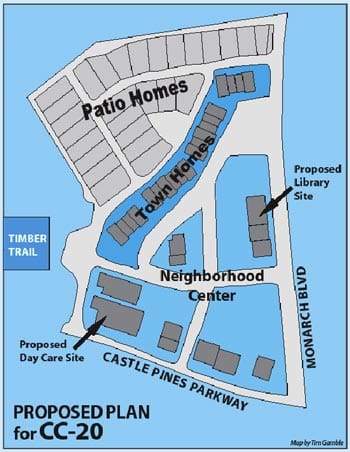 The south area of the parcel, adjacent to Castle Pines Parkway and Monarch Boulevard is expected to be developed as a "neighborhood center" and would consist of four to six buildings. Village Homes is negotiating agreements with a daycare/preschool for one building. They are also negotiating with the Douglas County Library District to place a library in another building on the site. The parcel may also include a bank, a family-style restaurant, medical offices, and a coffee shop. Adequate parking is included in the plan, along with sidewalks lining both Monarch Boulevard and Castle Pines Parkway.
At the request of the CC-20 Committee, the development will not include fast food restaurants, gas stations or any car-related services. Village Homes has agreed to comply with this request.
Village Homes will be working with the Castle Pines North Master Association's Architectural Review Committee to ensure the design of the new buildings is appropriate for the community.

Community Support Leads to Compromise
CC-20 has been zoned for commercial development since the master plan for Castle Pines North was first created in 1984. Originally the area included approximately 24 acres, but eight acres were sold to the Douglas County School District in 2000 and are now home to Timber Trail Elementary.
In January, 2004, Village Homes presented the first proposal to residents at a public meeting. The plan originally included dividing the parcel into seven commercial lots. Following the meeting, many residents reacted strongly to the proposal, sending letters to Village Homes and forming the CC-20 Committee.
The CC-20 Committee, led by Alicia McCommons and Jonette Brown Eyes, was instrumental in gathering research from homeowners and working to find a plan that was acceptable to the majority of the community. The CC-20 Committee conducted an extensive research project in 2004, surveying more than 1,500 homeowners. Results from this survey were shared with Village Homes.
"This group has held several meetings with Village Homes and has managed to reach an acceptable compromise for both groups. The efforts by all members of the CC-20 Committee have helped us get this far," said Bruce Thompson. "Countless volunteer hours were put in by many homeowners and we are extremely grateful for their participation and passion in overseeing this project."

What About Plans for a Park on CC-20?
CPN Metro District board members requested an appraisal of the parcel last December. In February, the District presented the results of the appraisal at their monthly board meeting. The value of the land was determined to be $4.8 million by McCloud & Associates. The Metro District board concluded that purchasing the property was not a viable option. In addition, Castle Pines Parks Authority member Bruce Thompson also
concurred with the board's decision.

Village Homes to Visit CPN April 19
Village Homes plans to host a public information meeting on Wednesday, April 19, at 7 p.m. at the Community Center, located at 7404 Yorkshire Drive. Interested residents can view the plan, learn specific details, and have questions about CC-20 answered during this meeting.
To find out more about this project visit the CC-20 Development section of the website.