North Meadows Extension open house looks at U.S. Highway 85 options
April 1, 2012
/
/
Comments Off

on North Meadows Extension open house looks at U.S. Highway 85 options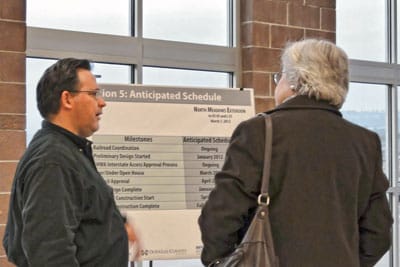 An open house attendee visits with George Tsiouvaras, principal with the Town's contract engineering firm Tsiouvaras Simmons Holderness.

By Elizabeth Wood West with photo by Kristin Accola, Town of Castle Rock
An estimated 50 to 60 people attended a recent open house hosted by the Town of Castle Rock regarding the North Meadows Extension (NME) road construction plan. The focus of the open house was to present two options to the public for a second northern access at U.S. Highway 85 for The Meadows development in Castle Rock.
The second access must cross the Burlington Northern Santa Fe Railroad's tracks near Castle View High School. The first option is a 25′ to 30′ tall overpass bridge that may create visual impacts to businesses and residents in the area. The second, more expensive option, is an underpass roadway that must address complicated drainage and utility issues, as well as railroad construction requirements.
The multi-million dollar NME is needed to provide a second northern access for The Meadows development, to relieve traffic congestion along Founders/Meadows Parkway at the U.S. Highway 85 and I-25 intersections, and to improve the traffic operations and safety of I-25's on/off ramps.
"The current plan is to collect public comment and then meet with Town Council to get a final decision on which option to implement," said Town Engineering Manager Dan Sailer.
Construction of this leg of the NME project is currently scheduled to begin in early 2013. For further information, contact Dan Sailer, P.E., by e-mail dsailer@crgov.com.