Open Space Day celebrates a historic treasure
August 1, 2016
/
/
Comments Off

on Open Space Day celebrates a historic treasure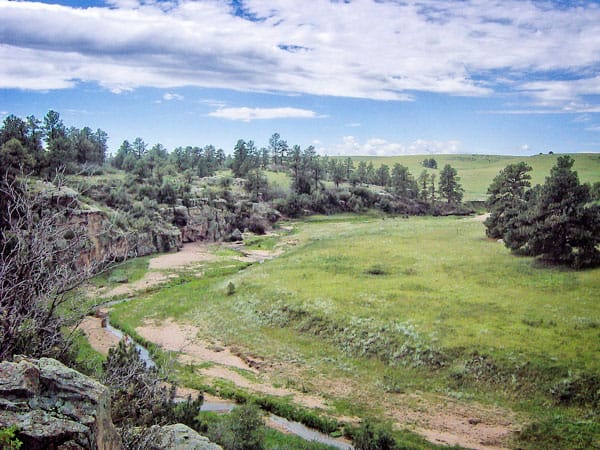 A spectacular view of Prairie Canyon Ranch, where Douglas County Open Space Day is celebrated every August. Horseback riders and hikers can take guided tours of the ranch, while other visitors enjoy the festivities in the barnyard area.
By Patte Smith; courtesy photo
Douglas County is rich in beauty and in history. Prairie Canyon Ranch, located in Franktown, was homesteaded by Frederick Bartruff and his family in 1873. Until late 2015, it was a working cattle ranch. Historic research of the structures indicates that there were significant advances in agricultural and architectural technology from the 1870s to the 1930s. The ranch is rich in archaeological resources, and evidence confirms human occupation up to 9,000 years ago.
In celebration of this unique property protected by the county since 2000, Douglas County Open Space and Douglas Land Conservancy are hosting its annual Open Space Day at the ranch on Saturday, August 20 from 10 a.m. to 2 p.m. The 978-acre ranch is two miles south of Castlewood Canyon State Park off of State Highway 83. Full of rolling grasslands, rocky outcrops, Gambel oaks, riparian areas, canyons and lush meadows, it is a remarkable landscape to be explored. Hawks, pronghorn antelope, coyotes, deer, elk and great blue herons are all known inhabitants of the ranch.
Activities will include a guided horseback ride for guests with horses, a guided hike, ranch tours, hayrides, blacksmith demonstrations, archery, games, bluegrass music, and more. Equestrians and hikers must register at www.douglaslandconservancy.org. Space is limited, so register early. Other attendees can join the festivities in the barnyard area; several buildings will be open for visits.

Douglas County Open Space began as a land conservation program in 1995 to preserve land, protect natural resources and provide appropriate educational and recreational opportunities. Ten trailheads on these Douglas County open space properties are open to the public with 77 miles of trails.
For more historic information about Prairie Canyon Ranch visit www.douglas.co.us, www.douglaslandconservancy.org and www.historicdouglascounty.org. For a map of Douglas County historic landmarks download www.douglas.co.us/documents/historic-landmarks-map.pdf.