Passion leads to business for young entrepreneur
February 1, 2012
/
/
Comments Off

on Passion leads to business for young entrepreneur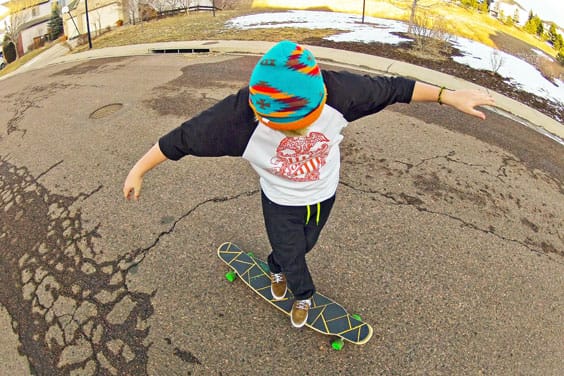 Ryan Nickell has discovered a way to make money by doing what he loves. "When I ride and have a fun time, there's nothing that beats it for me. I can lose myself!"
By Amy Shanahan, photo courtesy of Renee Nickell
Ryan Nickell, an eighth grade student at Rocky Heights Middle School, loves to spend his free time on his longboard. He has been skateboarding since the age of seven, and began longboarding two years ago. As he spent more and more time at this sport, Nickell recognized that longboards didn't last long, and that they were quite expensive.
A need for inexpensive, custom longboards led him to create his own company, FlowJoe Longboards.
FlowJoe Longboards is based out of Nickell's home. With the support of his parents, he has created several prototypes and is working with an artist to create unique designs and graphics for his boards. Nickell created a website to showcase his products and his story, and he markets his products via the website and through word of mouth.
The market for longboards is still fairly new and developing, so Nickell hopes to capitalize on that with his unique brand of inexpensive boards. "I decided to start my own business because I'd ride so hard and I always needed a new board, and they were so expensive," remarked Nickell. "I want my boards to appeal to both new and experienced longboarders."
In addition to a great product, Nickell hopes to make a difference by donating 10 percent of the profit on each board to skateministry.org.
This non-profit ministry is led by professional skateboarder Uriel Luebcke, and meets every Friday in Arvada. Kids are able to skateboard free of charge, hear a positive message, and have fun with friends. Nickell and his school buddies are regular participants in this ministry event.
To learn more about Nickell's company, visit www.flowjoelongboards.com.