Pine Ridge gets a fresh haircut
September 1, 2013
/
/
Comments Off

on Pine Ridge gets a fresh haircut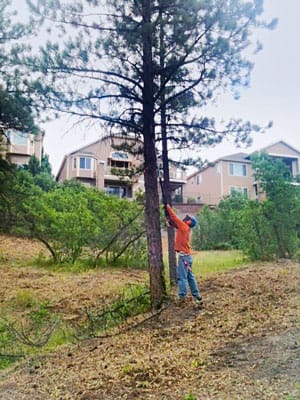 Crews work to remove potentially dangerous ladder fuels as part of the Pine Ridge HOA fire mitigation efforts.
By Steve Baska; photo courtesy of Barbara Saenger
The Pine Ridge neighborhood on the west side of Castle Pines cut back about 60 percent of the scrub oak in the open space near its homes in July as part of its ongoing fire mitigation program. The neighborhood did a first cutting about five years ago after getting a federal grant of $16,000 for the work.
According to the chairman of the Pine Ridge fire mitigation committee Barbara Saenger, the scrub oak had grown back since then, so maintenance was necessary. The Pine Ridge Homeowners Association set aside money to do the updated work because grants are not available for maintenance.
The HOA contracted with the company Twisted Timber, which used mechanical equipment to remove and mulch the scrub oak and about nine trees in 22 acres of open space owned by the HOA. The property is bordered by Daniels Park Road and The Ridge at Castle Pines North golf course. The HOA also hired a company for hand crews to do maintenance over eight days close to the homes and the golf course.
"We cut about 80 percent of the vegetation behind homes for our defensible space and about 40 percent of the vegetation farther back, so an average of about 60 percent total," Saenger said. "It is not necessary to clear cut everything. Our homeowners say it sure looks different now, but it looks good and natural and we feel better that it is safer. It looks like the area got a haircut!"
The HOA previously received recognition from the National Fire Protection Agency (NFPA) as a Firewise Community/USA for taking proactive wildfire safety measures in the community. Saenger said the HOA worked with Douglas County fire mitigation specialists, state forestry district personnel, The Ridge at Castle Pines North, and the City of Denver parks department.
Saenger said she does not know of any other HOAs in Castle Pines that currently do fire mitigation. "But I have a friend in another HOA who said they were starting to talk about it in her area, so maybe by example we are triggering conversations in other places," she said. "I hope so, because when we have 40 mile per hour winds, it can blow embers a long way."
To learn more about becoming a Firewise Community, visit www.firewise.org.