Pine Ridge HOA Takes On Aggressive Fire Mitigation Project
June 1, 2007
/
/
Comments Off

on Pine Ridge HOA Takes On Aggressive Fire Mitigation Project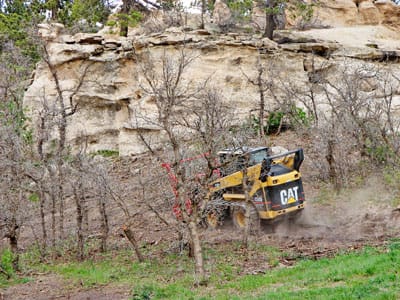 Scrub oak clearing begins in the Pine Ridge open space.

by Terri Wiebold
Nestled amid some of the most beautiful topography in the area – Daniel's Park, The Sanctuary, Cherokee Ranch, and The Ridge Golf Course – residents in the Pine Ridge neighborhood of Castle Pines North enjoy the breathtaking scenery and abundant surrounding landscapes, but are also exposed to extreme wildfire danger as a result.
In a collaborative effort involving the Colorado State Forest Service, South Metro Fire Rescue, Douglas County, the Castle Pines North Metro District, The Ridge Golf Course, and several private fire mitigation and horticulture specialty companies, The Pine Ridge Homeowner's Association (HOA) has developed a plan to mitigate wildfire hazard in the 22 acres of open space that surround the Pine Ridge neighborhood.
"We, as homeowners, cannot control the topography, the weather or the wind, but we can control the fuel available for a fire," said Barb Saenger, Pine Ridge resident and Fire Mitigation Committee Chairperson.
Saenger has been developing a community-wide protection plan (CWPP) that includes, among other things, a community risk assessment and action plan, as well as an implementation and management schedule for the mitigation project.
"Our ultimate goal was to make the community safe," said Saenger. An important component of the CWPP, she said, was to "identify strategies for reducing wildfire fuels and the risk of home ignitions, while working to improve forest health and fire fighting response capabilities."
With the support of the residents of the Pine Ridge neighborhood and a grant from the Colorado State Forest Service, Pine Ridge HOA has hired a mitigation specialist to accomplish this objective.
According to Greg Eno, owner of Horticare, (a forest health and fire mitigation service working on the project), accommodating the existing landscape while mimicking natural growth patterns is important in reducing hazardous fuels, but also in improving forest health, wildlife habitats, and overall good forest stewardship. "When you work with the vertical arrangement and horizontal continuity of the land," he said, "the end result is a 'natural mosaic' that is not only defensible space, but usable space as well."
Saenger said she is pleased with the progress and the "park-like" look of the areas already cleared. She encourages residents to drive down Daniel's Park Road and take a look at the amazing difference this project has made in the community. Saenger also hopes that neighboring communities will join in and do the same.
For additional information about this project, contact Barbara Saenger at Contact by email.