Pleasingly perfect pie – A taste of Texas Diner & Pie Company
February 1, 2014
/
/
Comments Off

on Pleasingly perfect pie – A taste of Texas Diner & Pie Company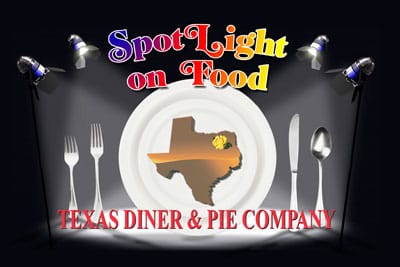 Article and photo by Lisa Crockett
Every country has a special food or two, something that has been perfected in that country in a way no other can duplicate. In Italy, of course, it's pasta. In France, a baguette and cheese. In Mexico, a fresh, warm tortilla is a delight. And here at home, there's nothing like a piece of pie.
I have a long-standing love affair with pie. Given that pie is, well, as American as apple pie, it's surprisingly hard to find a good one, so when I do it feels like something of a victory. Perfect, tender and flaky crust in combination with warm or creamy filling and possibly accompanied by ice cream deliciously melting into a sweet, sticky pool on the plate. It just doesn't get any better. And if pie is what you want, there's no better place to find it than the Texas Diner & Pie Company in Parker.
Located on a quiet street in the quaint Victorian Peaks Building, the small, cozy space is a great spot to enjoy a meal. The diner serves breakfast, lunch and dinner consisting of the kinds of meals owners Randy and Celia Waddle ate in their native east Texas. Breakfast features traditional favorites like biscuits and gravy, French toast, and breakfast burritos. Lunch and dinner is burgers, sandwiches, pizza or house specialties like fried catfish. For dessert there's cookies, cake, and of course pie.
On a recent visit, I enjoyed a piece of razzleberry pie a la mode. A warm berry-blend filling and flawless flaky crust provided the perfect counterpoint to a generous scoop of vanilla Bluebell ice cream. It was a sweet, satisfying end to a hearty meal of a French-dip sandwich and fries.
Randy got his restaurant training early, working at his uncle's restaurant in Greenville, Texas and later graduating from culinary school. Celia has the role of pastry chef, making pie like her mother taught her.
"I have two recipes that I use that are true to what my mom used to make," said Celia. "Her coconut meringue and her custard pie. I think the coconut meringue is my favorite because it's her recipe."
The interior of the restaurant is small, but the service is efficient and the space is pleasant and open. "I love to be in the kitchen working and hear people in the restaurant talking from table to table," said Celia. "I love the atmosphere here."
Roughly 40 pies are on the menu, with several offered on a rotating basis from day to day, but Celia said she's open to suggestion. "If someone wants a pie that's not on the menu, I'll research how to make it and give it a try," she said. "I'm open to just about anything."
Texas Diner & Pie Company is also a great place to stop in for an afternoon pick-me-up, during their pie "happy hour," when a slice of pie costs just two dollars and a pie shake – a milkshake which incorporates a piece of pie – is just $3.50.
Texas Diner & Pie Company is located at 11020 S. Pikes Peak Drive, #150 in Parker and is open for breakfast, lunch, dinner and pie "happy hour." Hours vary, so call the restaurant for details at 720-448-5824. Whole pies are available to order, prices vary.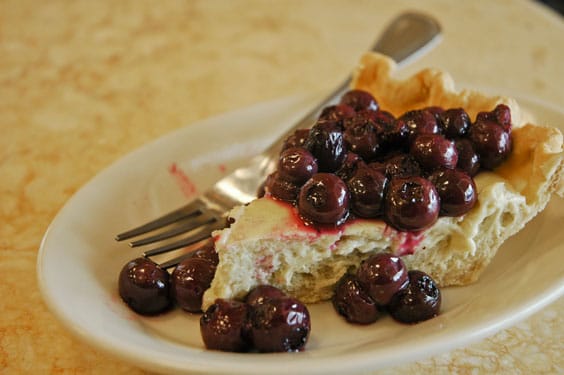 Blueberry cheesecake pie is just one of many tasty offerings on the dessert menu at the Texas Diner & Pie Company in Parker.