Popular youth sport "parkour" is no walk in the park
November 1, 2011
/
/
Comments Off

on Popular youth sport "parkour" is no walk in the park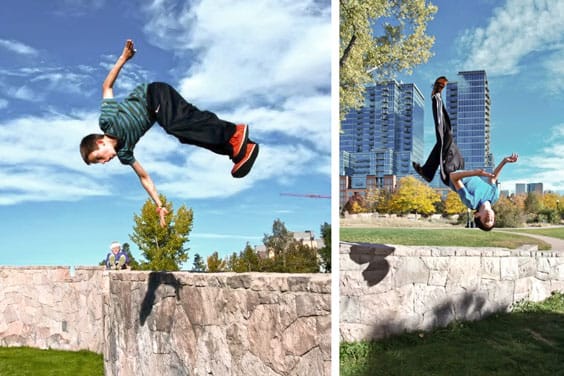 Rocky Heights Middle school student Landon Roberts practices parkour by executing stunts in a park in downtown Denver.
"Parkour helped me open my mind to new ideas and new ways to look at things. It makes me feel free and the physical and mental challenges keep me hooked on it." – Landon Roberts

By Amy Shanahan, photos courtesy of Justin Sikkema from Apex Movement
Monkey bars and other common playground equipment are finding new uses by kids and young adults practicing parkour, a relatively new sport, which is quickly gaining popularity. Parkour was created in the late 1990's and involves finding the quickest and most efficient way from one point to another using only the surroundings, and adapting one's movements to the environment.
The term parkour is derived from the French phrase "parcours du combattant" which is an obstacle course method of military training used in France. A native of France, the founder of the parkour movement, David Belle, has become an internet sensation due to his videos on YouTube and other sites. Practitioners of parkour thrive on both the physical and mental challenges of the sport.
The physical aspects involve running at full speed, jumping, climbing, vaulting, rolling and balancing. The mental philosophy promotes moving within your environment, and approaching obstacles of any kind without hesitation. Parkour practitioners literally go over walls, not around them, they leap down stairs, rather than walk, and they take the stair rail, not the stairs.
Landon Roberts and Max Shean, both eighth grade students at Rocky Heights Middle School, began studying parkour less than a year ago. They have both already reached intermediate status at their gym, Apex Movement in Englewood.
Roberts' background in gymnastics and martial arts led him to parkour, and he relishes both the physical and mental challenges of the sport. "Mentally I have to prepare and go one-hundred percent," he says, "Otherwise my muscles will re-draw and I will fail. I go until I reach my limit and then carefully expand on that."
Shean took up parkour because he wanted to learn how to do a wall flip. Both teens practice several times per week at their gym, but also enjoy practicing in the urban environment at playgrounds where the equipment is suited perfectly for the sport. "You can really express yourself through this sport; I love it!" said Shean.
For more information about parkour training, contact Apex Movement Gym at www.apexmovement.com.