Preservation Committee Hosts Incorporation Work Session
February 1, 2007
/
/
Comments Off

on Preservation Committee Hosts Incorporation Work Session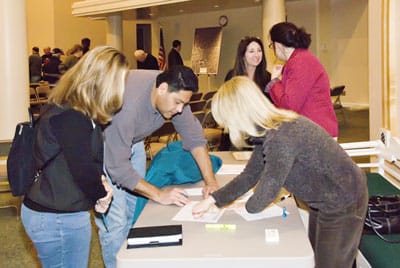 Preservation Committee Volunteers sign up for six teams that will help with the incorporation election process.

By Lane Roberts
More than 40 volunteers from Castle Pines North (CPN) attended the Citizens for the Preservation of Castle Pines North work session on Wednesday, January 17, at the Community Center.
During the meeting, CPN Master Association President and Preservation Committe leader Maureen Shul provided an update on the incorporation process and discussed a few of the rumors circulating the community. "There have been so many rumors during this process which is unfortunate but expected," said Shul. "The community can be assured that the Preservation Committee is committed to providing accurate and timely information to all residents regarding the incorporation issue." To help minimize the rumor mill, the Preservation Committee will be hosting bi-monthly meetings throughout the CPN community to keep residents informed of developments as they occur. Dates for the meetings will soon be posted at www.cpnpc.org.
Shul then explained the 90-day period leading to the incorporation has yet to begin (as of press time). "We have more time now to bring in a professional firm with the experience and expertise we need to conduct a full economic feasibility study in order to provide accurate data to all CPN residents to make an informed decision," Shul said. The 90-day count down to the incorporation election will not begin until Douglas County District Court responds to the two motions regarding the petitions of both CPN and the Village.
The Committee also introduced six key teams during the meeting that will help CPN move forward during the election process. Additional teams will be formed at a later date as the process warrants. The teams include: Research team, Communications Review team, Communications Distribution team, Election Block team, Voting Coordination team and the Fundraising team.
Each team has been assigned a team leader who will be coordinating team meetings during the next few weeks. "The response from residents in this community has been overwhelmingly supportive," said Shul. "So many residents have stepped up and are willing to work together to ensure the best possible outcome for our community."
To join the Preservation Committee or to participate on any of the teams listed above, please e-mail cpnpc@cpnhoa.org or call 303-957-5300.