December 1, 2015
/
/
Comments Off

on Proper Scarlet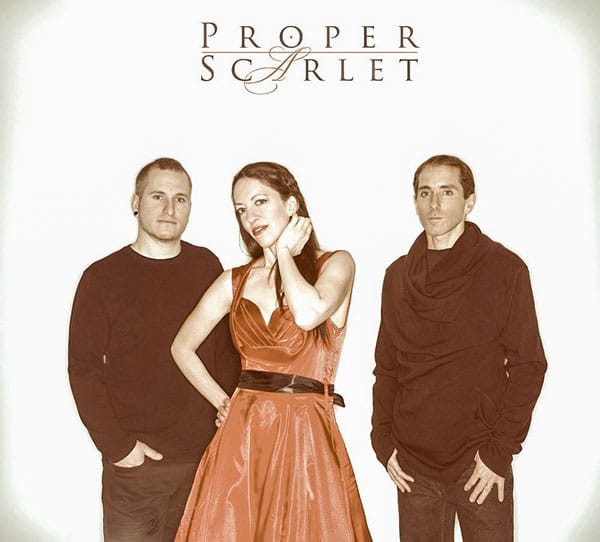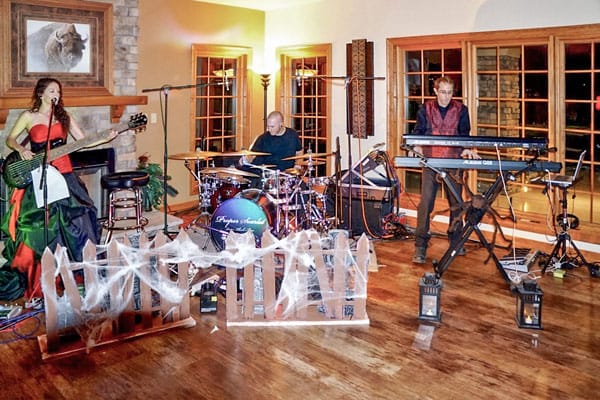 These residents who are classically trained musicians from the band Proper Scarlet performed at a Halloween party at the Daniels Gate Clubhouse on October 30.
By Kathy Fallert; courtesy photos
Husband and wife team Christian Lowsley and Julia Brochey, residents in Serena, have joined with Esperanza resident Brian Levy to form the trio Proper Scarlet. The group is an acoustic and electronic combination that blends strong melodies and ornate beats by these three classically trained musicians. Proper Scarlet performed a private Halloween concert at Daniels Gate Clubhouse on October 30.
Brochey is classically trained in guitar, piano and voice and she plays six string bass for Proper Scarlet as well as performing vocals. She also enjoys playing flamenco and jazz guitar and teaches piano, guitar and voice. Husband Lowsley has studied both percussion and piano at the Conservatory of Music at the University of Missouri, Kansas City and plays the drums for Proper Scarlet. He teaches piano, drums and bass in addition to tuning and rebuilding pianos.
New addition Levy is a classically trained pianist, electronic musician, and composer. On the side, he is a practicing physician and the Chief Medical Officer of Health Language, a healthcare IT company in the Denver Tech Center. Proper Scarlet formed after Lowsley began teaching music lessons to Levy's three children.
"One day, after several attempts, the name was just there," said Levy. "Proper had been on a list of potential names for a while; it had something to do with the suburbs. Later, Christian mentioned that he liked how Julia used the word 'scarlet' rather than the word 'red' in one of the new songs. And there it was – Proper Scarlet."

The Halloween gathering was quite a hit. Castle Pines resident Richard Brown remarked, "Wow! The amount of sound Proper Scarlet generates live with only three people will shock and amaze! Each piece is meticulously composed in a classically-influenced manner, but kept my girls dancing song after song. Brochey's haunting voice feels like a lead instrument in many of the songs, and she also plays a six-string bass that seems as big as her. Proper Scarlet played a wonderful evening of high quality music with a unique sound – highly recommended!"
To find out more about Proper Scarlet or to book the band for your next event, visit www.properscarlet.com.