Proposed CPN Cell Towers Still in Limbo
April 1, 2009
/
/
Comments Off

on Proposed CPN Cell Towers Still in Limbo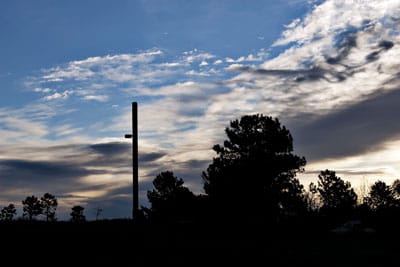 T-Mobile Tower at the Ridge
by Lisa Crockett
Castle Pines North (CPN) resident Cheryl McDade wants to make a call using her cell phone, but sometimes finds that difficult to do.
"We switched to Verizon last year from 15 years with AT&T," said McDade in a letter to The Castle Pines Connection. "Verizon does not work at my son's best friend's house in Daniel's Gate. I have an option to switch my service, and would like to use one that would work up here – and I imagine there are many people like me."
McDade is not alone in her search for a signal in CPN and the surrounding areas, but coverage for cell service isn't likely to get better any time soon.
A plan for a tower that was to have been built by T-Mobile in Daniel's Gate on Metro District property (at the intersection of Daniels Gate Road and Ocaso Drive) has been cancelled. A tower will likely now be located at the Daniel's Gate Clubhouse. The project was moved in response to nearby residents who worried about the height of the tower, which was to have been disguised as a light pole. The move means a delay since it will require new plans and approval from various community agencies.
"It will probably be months until budget becomes available to pursue a new location," said Matt Butler, a project manager for Technology Associates, who is handling the project for T-Mobile.
Other cell carriers in the area are facing similar circumstances as they search for tower locations to improve coverage in the area.
According to Jim McGrady, general manager of the Castle Pines North Metro District, Verizon is pursing the necessary procedures for installing a flagpole-style tower in front of the CPN community center. It will mirror the existing cell phone tower located at the community center; if the tower is approved, an American flag will fly on one pole, the Colorado flag on the other.
AT&T would like to improve coverage in the area as well and is also searching for a location for a new antenna. Originally, AT&T had hoped to locate equipment on a pole along the Xcel power line corridor, but the plan was cancelled because it would have required power to be shut down for installation.
"The [Metro District] Board directed staff to begin negotiations with AT&T to see what we come up with," said McGrady. As of press time, no site had been determined, but the Metro District was committed to working with AT&T to find a site.
Bill Ader is a community volunteer who heads the CPN Master Association's Design Review Committee, which is known as a "referral agency" – basically any community group with a vested interest in a project. This group must be notified and then given time to respond before any project can move forward.
"Most of the comments from the community have to do with the height of the towers," said Ader. For good cell coverage, carriers generally propose towers that are 45 feet high, taller than the young trees in the area, and roughly 10 feet taller than most other utility poles in the community.
After referral agencies have been given time to respond, the company seeking to build a tower must hold a public hearing with the city council and take public comment. These hearings require prior public notification of the hearing (generally via a large sign placed on the proposed tower site.) According to Sam Bishop, CPN's director of planning and zoning, any new tower requires "public notification indicating the time, place and nature of the public hearing."
Certain details about how the public is notified do vary from location to location, however.
"Public notification requirements vary on a case-by-case basis and are based on the nature of the request, the location, the underlying zoning and many other variables," said Bishop.
Residents who have questions about a specific site can find information on the City's website at www.cpngov.com and can click on "land use." Questions can also addressed by email or calling 303-705-0200.
Of course, all the necessary procedures to get a tower installed – site location, design and engineering, applications and comments, responses to comments and final hearings — take time and it will likely be many months or longer before CPN and its neighbors have improved cell coverage, especially in the northern portion of the community. In the meantime, McDade and her neighbors will continue to search for a signal.