Providing an inspirational way to learn
June 1, 2016
/
/
Comments Off

on Providing an inspirational way to learn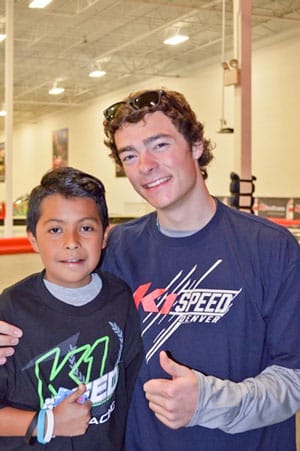 Greg and Daniel went go-kart racing to celebrate his graduation from fifth grade.

By Lynn Zahorik, photos courtesy of Meredith Woodrow
Once a week when Greg Woodrow finished up his classes at Rock Canyon High School, he headed to South Fellowship Church in Littleton to be a volunteer mentor with Whiz Kids Tutoring (WK). Greg instructs a young boy named Daniel who he has been tutoring for five years. WK is a program designed to help improve the lives of disadvantaged elementary and middle school kids through academic tutoring, positive mentoring relationships, and spiritual nurture.
WK began in 1990 through the collaborative efforts of church, community, schools and business leaders. Their desire was to bring resources into neighborhoods where there was a need to bridge the achievement gap. WK began a city-wide outreach by partnering suburban and urban churches with urban schools. WK now has 50 sites that serve more than 800 elementary and middle school students throughout the metro area. Its goal is to reach 1,000 kids annually by 2020.
A typical tutoring session between Greg and Daniel includes three elements. First they will kick back and connect by playing a bit of Frisbee or football. They then grab a snack and launch into the activity of homework, usually in the areas of math and reading. They wrap up their time together with club time where they sing songs and have a short lesson from the Bible.
"Watching Daniel's progress not only gratified me but also encouraged me to work harder in my own academics," stated Woodrow. "He started in the first grade but was so far behind in math, reading and writing that his teachers triggered him for Whiz Kids to get more help. We started on basic sight words and addition. He just told me two weeks ago with a big smile that he passed the reading test for his age level. So he is now advanced for his peers. It humbled me to see how hard he worked and how much he achieved through his work ethic."
"Volunteering as a tutor for Whiz Kids has been a revitalizing experience. It has given me a better realization as to how blessed I am. I have developed a huge appreciation for the 'never give up work ethic' that almost every student has despite their difficult home lives and personal struggles," added Woodrow.

Program coordinator Susan Jonas has had the pleasure of seeing both boys blossom in the WK program. She has watched Greg become confident in his role as a tutor and mentor. She has seen Daniel's delight as he becomes a stronger student. Jonas beams as she reflects on how Daniel has been blessed by the love of the entire Woodrow family over the past five years. "I truly believe that Daniel will be a different boy because of his friendship with Greg," said Jonas.
WK does most of its recruiting in the spring and summer. They are mainly looking for people who want to make a difference while they serve and enjoy working with kids. Their tutors range from teenagers to grandparents. No previous training or experience is necessary. Tutoring is for one hour and focuses on reading, math and homework help. Currently there are 12 people from the Castle Rock area who volunteer for WK. Tutors are matched with one student that they will work with from early October through late April. As is the case with Greg and Daniel, some matches last for many years. Daniel is now 11 and graduating from fifth grade, and Greg just finished his junior year.
For more information on Whiz Kids Tutoring or to become a volunteer, visit whizkidstutoring.com.