Putting down roots a military family's journey
November 1, 2018
/
/
Comments Off

on Putting down roots a military family's journey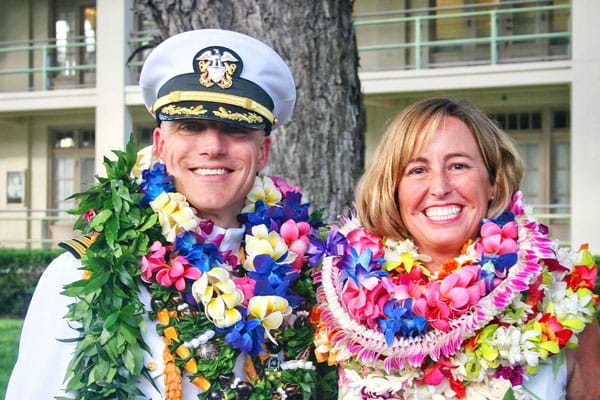 James and Melissa Coudeyras at James' retirement ceremony on Pearl Harbor Naval base in Oahu, Hawaii. James served for 20 years and one day with much of that time as an information warfare officer. He retired as a commander.
By Daniel Williams; photos courtesy of Melissa Coudeyras
After serving twenty years in the navy, James Coudeyras called a family meeting. The information warfare officer had been considering retirement for a while, but a new assignment was on the table – a move to Japan that would have him on a ship much of the time, away from his wife and kids. With two sons, Alex and Austin, in their teens and the suitcases barely unpacked from the last move, the family meeting was in order.
"We actually sat down as a family and talked about retirement and made that decision together," said James' wife, Melissa. "And it was the best decision we've made."
The boys were at an age, she said, where everyone was ready for a change and for the Coudeyras family, that meant it was time for them to put down roots.
A sense of community
After tendering his resignation having served 20 years and one day in the navy, James accepted a job in Centennial, and the family moved to Castle Pines in February 2014.
"This is the longest James and I have ever lived in one place since we got married," said Melissa, who listed their many stops during life as a military family. "We lived in California twice, Virginia twice, Hawaii and Japan."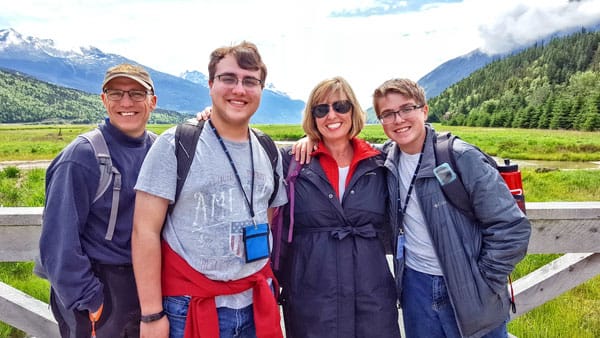 The Coudeyras family, James, Alex, Melissa and Austin, enjoying a vacation in Alaska.
With no new assignment looming, the Coudeyras family held true to their word, knitting themselves into the community in a way they had never been able to previously.
James served for several years as Scoutmaster of Boy Scout Troop 416. Alex, who is now a freshman at the University of Alabama, earned his Eagle Scout at Troop 416. Austin, who is a freshman at Rock Canyon High School, is currently working on his. James is also running for a position on the Charter Commission for the City of Castle Pines.
Giving back to the community also tugged at Melissa. She served for years as the president of the Parent Community Alliance at Rocky Heights Middle School and she continues to serve as a docent at the Cherokee Ranch & Castle Foundation. She also served as a merit badge counselor for Boy Scout Troop 416, which led to her current appointment as city council representative for Ward 1 in the City of Castle Pines and as the City's mayor pro tem.
"I had gone to a city council meeting with my son for one of his Boy Scout requirements," Melissa said. "While at the meeting, I learned there was an opening in Ward 1 for a representative. I never had a political bone in my body, but there's something about this place that I love, that we all love so much, and so I wanted to be a part of it. I wanted to be a part of helping shape its future."
Giving back
Military life was a unique experience, Melissa told The Connection. "I really feel the whole family serves in the military as well as the active duty member. And I feel that in being a military family, we have had so many incredible experiences and benefits."
And it's because of those experiences and benefits that the family wanted to give back to a community during civilian life once they were finally able to put down roots.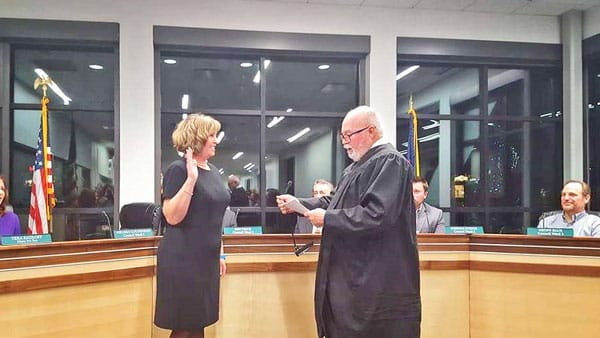 Melissa being sworn in as the Castle Pines city council representative of Ward 1.