Rare white deer calls Douglas County home
July 1, 2018
/
/
Comments Off

on Rare white deer calls Douglas County home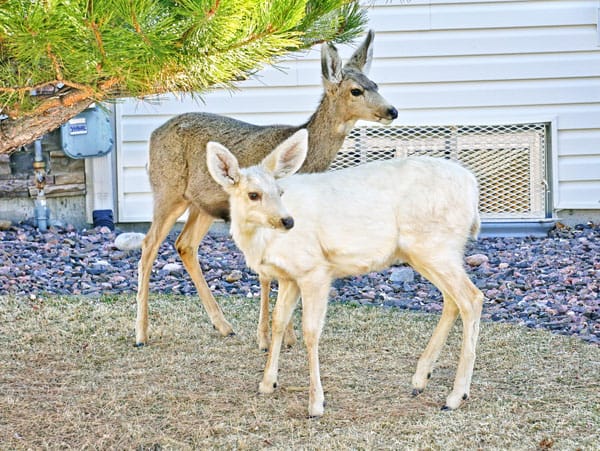 Photographer Joe McDaniel captured the contrast between the rare leucistic deer and her brown sibling.
By Barbara Neff; photos by Joe McDaniel
When Douglas County resident, travel writer and wildlife photographer Joe McDaniel heard murmurs among neighbors this past fall that they had spotted a white mule deer fawn in the area of Tallman Gulch Trail, he did what nature enthusiasts do. He grabbed his camera and trekked out for a look. Sure enough, he spotted the white fawn briefly, estimated by McDaniel to be just a few months old at the time, hidden in an area of thick brush. He was able to grab just one photograph before she fled.
McDaniel spent 25 years in southern Africa, beginning at age 12, where he earned a Bachelor of Science degree in Zoology and Etymology. He spent several years working in the African bush before returning to the U.S. His keen interest in wildlife has been lifelong.
To McDaniel's astonishment, a few months ago, the white fawn, now about a year old, strolled right onto his street in neighboring Parker, accompanied by siblings – all brown. This time, the white deer showed herself long enough to be well photographed.
The white deer is not albino, as many mistakenly assume. The coloring, according to McDaniel, is the result of leucism, a recessive gene that occurs among many species. McDaniel stated further that because the gene is recessive, a white or leucistic fawn will only be born when both the male and female parents carry the gene.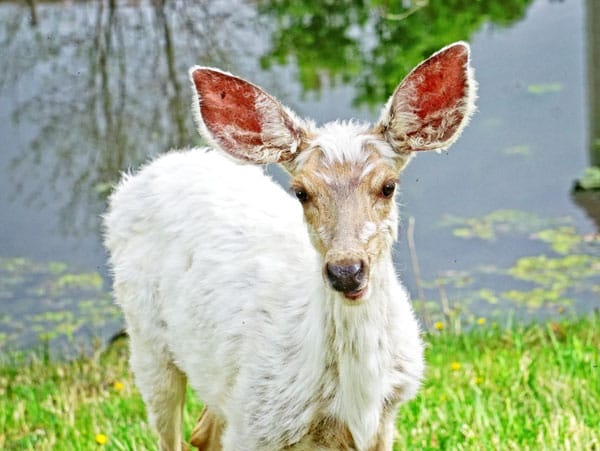 This beautiful doe is white with dark eyes, rather than the typical brown, due to a condition called leucism.
Karen Fox, wildlife pathologist at Colorado Parks and Wildlife, stated that albinism is the result of a lack of melanin, which provides color for skin, feathers, hair and eyes. Leucism is a partial loss of pigment, but the eyes are not affected. Fox, who is excited to learn about our leucistic deer here in Douglas County, stated that fewer than one percent of all deer are white.
To those hoping to catch a glimpse of the white mule deer, Justin Olson, district wildlife manager at Colorado Parks and Wildlife, cautions the public to keep a safe, respectful and comfortable distance from all wildlife.
Olson stated that Colorado Parks and Wildlife manages 960 species. While an abundance of wildlife is part of what makes Colorado special, Olson wisely reminded, "We have a tremendous responsibility to help keep our wildlife wild."