RCHS After Prom tradition continues keeping kids safe
May 1, 2018
/
/
Comments Off

on RCHS After Prom tradition continues keeping kids safe
Rock Canyon High School students enjoyed the many activities at the After Prom party that helps to keep kids safe the night of prom. Students wrote good wishes in the senior hall, gambled in the casino, played games, enjoyed food and won prizes. Above left: Abby Castro and Nick Janedis gamble in the casino at the RCHS after prom party, where the entire school was transformed; Below: Lauren Likes and friends enjoy the many delicious food options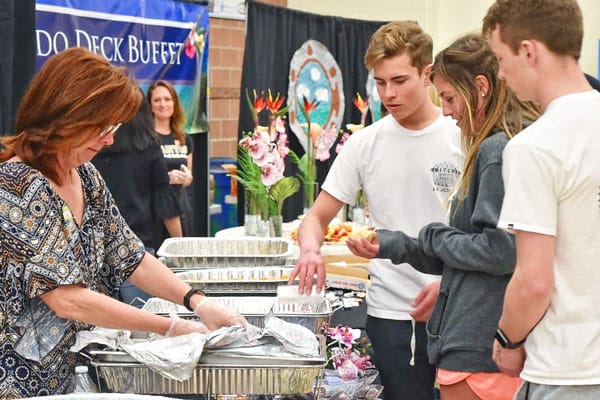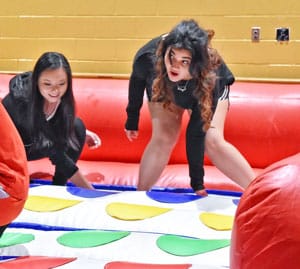 Maya Balan plays balance twister.


By Abigail Schriefer, RCHS intern writer; photos courtesy of Chloe Mill and Abigail Schriefer
Rock Canyon High School (RCHS) students enjoyed various activities at the After Prom party held after RCHS's prom, themed "Elegance in Evergreen" on April 7.
After Prom was held all around the entire school from 11:30 p.m. to 3:30 a.m. with the goal of keeping kids safe since prom night is considered one of the most dangerous nights for teenagers. Hosted by the Rock Canyon Community Alliance and run by many parent volunteers, After Prom is a nationally recognized event. This year was the thirteenth annual After Prom that RCHS has held and was themed "Under The Sea."
Students enjoyed activities including laser tag, a photo booth, a casino and glow-in-the-dark mini golf, to name a few. "My favorite part was the senior hall because I got to walk around and see all of the different pictures of everyone," Taylor Hein, RCHS senior said. "It was a lot different than last year because I got to appreciate all of the activities and was able to go to one last school dance activity. I loved the raffles and all of the different prizes you could win."
Raffles were held periodically throughout the night where students could win amazing prizes like mini-fridges, play stations, mini-televisions, gift cards, skateboards and much more. A massage room was set up in the choir room where students could get a free professional massage. There was also a temporary tattoo station and free snow cones. Students enjoyed food from Chick-fil-A to sushi to fresh fruit kabobs.
Students could shop at a gift shop using carnival tickets. "At After Prom I played blackjack and I lost all of my money within three minutes. I decided to go all in because it wasn't my money in the first place. My favorite part was how relaxed it was. I liked it because after a night of high pressure and trying to look perfect, you can show up to After Prom and just have fun," Paige Pecoraro, an RCHS senior said. After Prom 2018 was unique, extravagant, and definitely one that our seniors will remember.