RCHS partners with Positive Coaching Alliance
October 1, 2013
/
/
Comments Off

on RCHS partners with Positive Coaching Alliance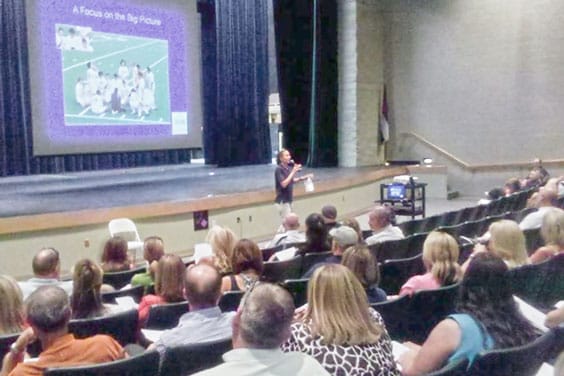 Parents of athletes at RCHS attended the Positive Coaching Alliance workshop entitled "the second-goal parent" presented by Amy Manson, a former elite runner.
By Lisa Nicklanovich; photo courtesy of PCA
Rock Canyon High School (RCHS) kicked off the school year for athletes and their parents with a Positive Coaching Alliance (PCA) workshop on August 20. Two hundred and seventy athletes learned how to be a "triple-impact competitor" who strives to impact their sport on three levels by improving oneself, their teammates, and the game as a whole. The workshop was presented by Brett Nichols, an accomplished athlete and college basketball coach who is currently pursuing his PhD in the social psychology of sport.
Separately, parents of athletes attended "the second-goal parent" workshop, presented by Amy Manson, a former elite runner, Superior track and field coach for the last 13 years, and now, a PCA trainer. Manson said, "Let the coaches and athletes focus on competing and winning. As parents of athletes, take a step back and look at the big picture. Focus on being supportive and just being there for your child." Manson enthusiastically reminded parents to "fill the emotional tank" by listening to your child, and staying positive with verbal and non-verbal communication. Youth sports offer many opportunities to learn life lessons in hard work, discipline, integrity, perseverance, teamwork and how to handle mistakes. Manson said, "Tell your child mistakes are OK and try to list specific things they did right."
PCA is a national non-profit, launched in 1998 at Stanford University by Founder and CEO Jim Thompson. PCA has impacted more than five million youth athletes and provides workshops, online courses, Thompson's books, e-communications, and free tips and tools through its website for youth and high school sports leaders, coaches, athletes, parents, and officials.
Tom Brieske, athletic director at RCHS said, "The reason I decided to partner with PCA this year is because I believe they do a great job working with coaches, parents, and student athletes on developing an optimal high school sports environment. We play to win games, but at the same time there has to be a balance, and I believe the life lessons learned through participation in sports is ultimately the most important takeaway for our kids."
For more information about PCA, visit www.positivecoach.org or visit the Positive Coaching Alliance on Facebook.