RCHS volleyball team fought hard for road to state
January 1, 2016
/
/
Comments Off

on RCHS volleyball team fought hard for road to state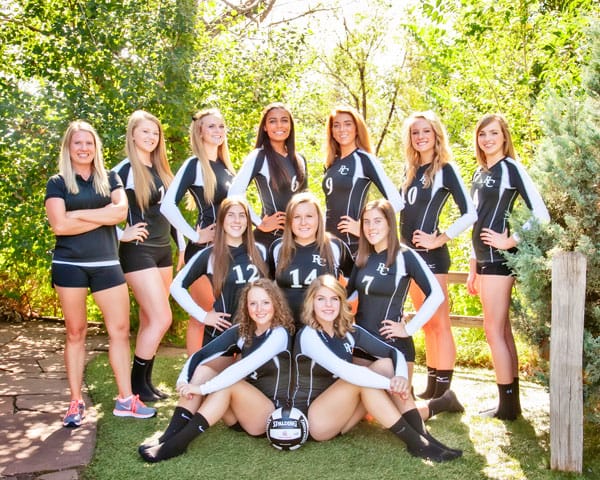 The RCHS varsity volleyball team won regionals and advanced to the state championship this season, for the first time. A majority of the girls have been playing together since middle school.
By Lisa Nicklanovich; photo courtesy of Monty Nuss Photography and courtesy photo
The Rock Canyon High School (RCHS) varsity volleyball team recently wrapped up its season, going as far as the state semi-finals. It was the first time the team got to compete in the state championship and everyone has high hopes for this team in the future.
The highlight of the regular season was playing #1 ranked Mountain Vista. Maddy Metcalf of CPV said, "We lost our first two games and were on the brink of getting swept three games to zero but we fought hard for every point and won the match in five games. That win really gave us strong momentum going to regionals and to state." Coach Nylund-Hanson added that the win "was probably the most exciting match of my coaching career as the girls didn't give up and wanted it so badly."
With two seniors, eight juniors and one sophomore, the team is on the younger side. Nylund-Hanson said, "The juniors have played together a long time and have a good connection on and off the court. The whole team worked hard, played well and got along, having fun but staying focused, which carried them through to state."
The team won regionals early November which RCHS hosted, then headed to the state championships November 13 and 14 at the Denver Coliseum. On the first day, the team beat Arapahoe High School in a close match that went into overtime. The second match was against Legend High School, who had beat RCHS in regular season play. RCHS won the match and were the only 5A team to win in three straight sets.
At semi-finals the second day, RCHS was matched against Fairview High School. Although RCHS came back from losing the first two games and won the third, ultimately Fairview won the match. Nylund-Hanson said, "I'm incredibly proud of the girls for making it to the semi-finals and fighting hard."
This was Nylund-Hanson's first year as head varsity coach and her seventh year coaching at RCHS so she will have coached the majority of this group of athletes through all four years of high school. Nylund-Hanson was born and raised in Castle Rock, played volleyball at Douglas County High School, and has a younger sister who played volleyball at RCHS. Nylund-Hanson said, "I have confidence that we will make another run at state next year. This group of girls is very talented and has such a competitive drive."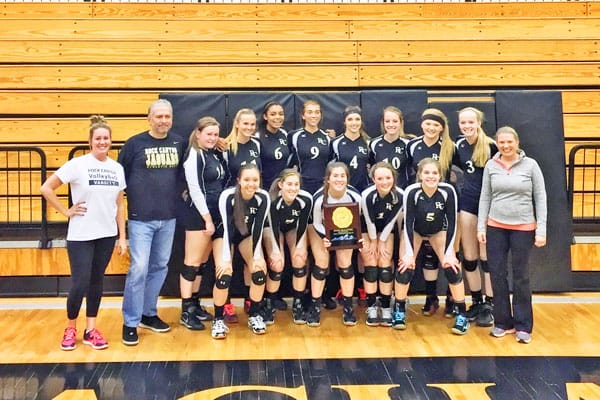 The RCHS varsity volleyball team after winning regionals at RCHS on November 7. Harley Freeseman of Castle Pines said, "I liked our team dynamic. Everybody brought something special to the team whether it was talent, attitude or effort. Everybody had a big role on our team this season."