RHMS spring musical hits a high note
May 1, 2016
/
/
Comments Off

on RHMS spring musical hits a high note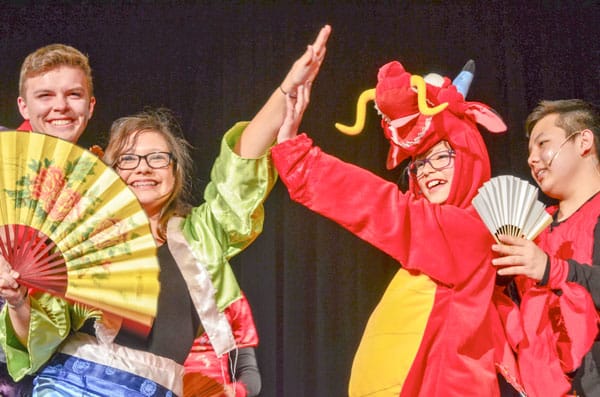 "Mulan Jr." brought together talented middle school performers, including (from left to right) Gideon Groom, Morgan Cruz, Kelsey Buffington, and Jimmy Lam.
By RHMS eighth grade student Sarah Bermingham; photo courtesy of RHMS yearbook student Kylie Devin
It was time to welcome spring with Rocky Heights Middle School's (RHMS) production of Disney's "Mulan Jr!" This year's musical was a huge success as both the cast and crew did an amazing job. Mulan Jr. is an empowering story about how Mulan, played by eighth grader Morgan Cruz brings honor to her family by going against traditions and joining the Chinese army to save her father and all of China. She proves that nothing is written in stone, and the most important thing in life is not following tradition, but following your heart. The actors did a wonderful job of portraying this timeless story, but it took a lot of hard work.
The musical was made possible by producer Susie Ritter-Forsyth, choreographer and director Christopher Sergeeff, and vocal and music director Deanna Kraft. Kraft, who is also the school choir teacher, stated that in order to put on a great show you need, "a LOT of hard work, commitment, responsibility, and teamwork. Every person involved in the process of putting together a musical has to know their role and be prepared to fulfill it 100 percent." Kraft explained that what she wanted students to take away most from this experience was "a love of acting and singing. I also want them to know the worth of what can be accomplished when you really commit yourself to a long-term project." Students learned what it really takes to put on an amazing show. Cast members put in hours of hard work, but the turnout was well worth it!
Even though rehearsals and performing Mulan Jr. took effort, the actors had a great time. When asked what her experience was like, Castle Pines Village resident Grace Kimzey – who played Laozi, one of Mulan's ancestors said, "My experience was really awesome and memorable. Rehearsals were always fun because I got to act and sing with all of my friends, and I had a lot of laughs. I also loved our performances because we all did so well, and I felt very proud and happy." Sixth grader Amanda Bermingham stated, "I learned how valuable teamwork is. I learned that it is important to work hard while still having fun."
Participating in a musical or play like this one is a great undertaking for all those who enjoy acting. It is a way to meet new people and have fun while putting on a fabulous show. Bermingham's favorite part was "hanging out with friends while becoming a better actress." Kimzey enjoyed how close the cast grew together and stated, "My favorite part of being in Mulan Jr. was how much of a family we became. In every musical I do, the cast and I have such an amazing and memorable experience. I never want to leave them all." Participating in performances like Mulan Jr. is a great way to make new friends and have a lot of fun.
Did you miss the production? Luckily, the production was live streamed and can be viewed at: http://www.nfhsnetwork.com/events/rocky-heights-middle-school-littleton-co/f7cad88f59.