RHMS students inspired by an 84-year-old's story
October 1, 2016
/
/
Comments Off

on RHMS students inspired by an 84-year-old's story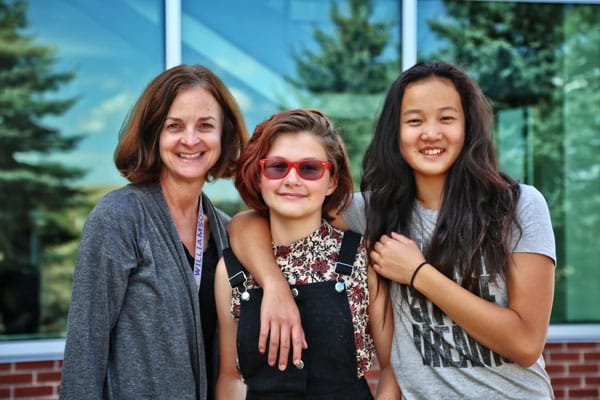 Seventh grade social studies teacher and project advisor Laurie Williamson with students Chloe Voss and Amanda Gin.

Submitted by RHMS eighth grade student Amanda Brauchler; photo courtesy of Izzy Holsman
Nora Danzig is a Holocaust survivor. She was born in Germany in the 1930s, and she is 84 years old. Danzig was not only a Holocaust survivor, she was also a child put through the foster system and was also an inspiration to two young girls at Rocky Heights Middle School (RHMS).
Last year, then seventh graders Amanda Gin and Chloe Voss created a video project for the iWitness Video Challenge. The video was inspired by Danzig's testimony for the Shoah Foundation, the organization that runs the challenge. "The activity challenges them [the students involved] to increase their understanding of digital and media literacy, deepen their critical thinking, and promote positive social change in their community and in the world," noted the iWitness Video Challenge website. Students who participated in the project chose a testimonial from a Holocaust survivor and created a project to help their community based on the video.
"Amanda and I decided to do a project for foster children, just to let them know that there is always someone there for them whether they know them or not," remarked Voss, a Castle Pines resident, when asked about their idea for the project.
Voss and Gin made 50 gift bags to hand out to each of the children at the placement agency, Kids Crossing. The bags contained toys, crayons and cookies. Finding the words to express how she felt at the end of the project, Gin said, "It felt like I was making an impact on the community and knowing that I was helping someone else – even if I didn't know them – was just a good feeling."
"The notes that they [the girls] put in the bags were so moving to me … the idea that everybody deserves to feel loved," said Voss and Gin's teacher, Laurie Williamson. "These girls get it; No matter who you are, you are human and deserve not to be forgotten."
The students' video about their project titled "Nobody Forgotten" earned them second place in the nation-wide competition. "This was a really fun project, and I think that more schools should get involved with it," remarked Gin. The two RHMS students will split the $1,000 scholarship money that they earned from the iWitness Video Challenge. "I feel really great. This was a cool opportunity, and I am really glad I could help out," said Voss.
Learn more about the challenge, the foundations and the people involved at http://bit.ly/2ceLBAr.