RidgeGate Development Amendment 5 update
March 1, 2018
/
/
Comments Off

on RidgeGate Development Amendment 5 update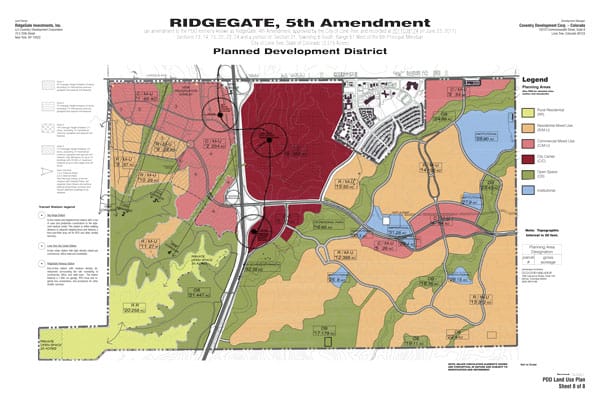 The map shows the proposed Amendment 5 planned usage areas in the RidgeGate Development District. Amendment 5 has not yet been approved.
By Patte Smith
Construction of the end-of-line RTD light rail station parking garage and rail tracks continues to move forward with completion planned for early 2019. Currently, new water main lines are being installed on the east side of Havana Street across from the light rail parking garage. According to the City of Lone Tree, the water main is for the light rail station, although there will not be any restrooms at the facility.
Amendment 5 of the planned RidgeGate Development District is still in the approval process. This area is approximately 3,500 acres located south of Lincoln Avenue and east and west of I-25. If approved, the city center area (pictured right in red)will be increased and also extend south of RidgeGate Parkway on both sides of the Havana Street frontage road.
For more information regarding Amendment 5 of the RidgeGate Development District, visit www.cityoflonetree.com/planning/latest_projects/.