March 1, 2019
/
/
Comments Off

on Riding to stay fit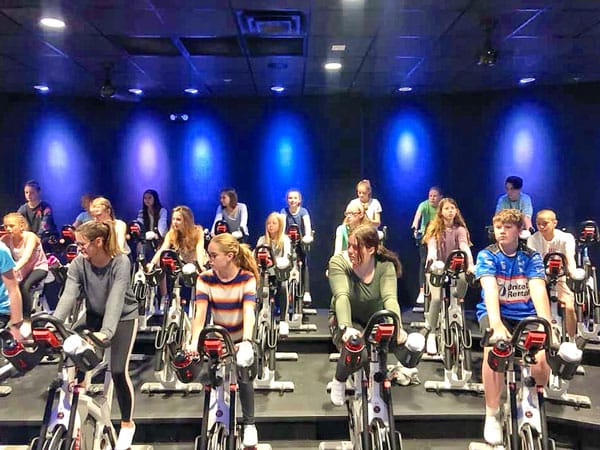 DCS Montessori riding to every beat during their PE cycle class at CycleBar Castle Pines.
By Julie Matuszewski; photo courtesy DCS Montessori
The DCS Montessori (DCSM) seventh- and eighth-grade students had a choice when it came to picking an activity for physical education (PE). Indoor cycling won fair and square over floor hockey. As part of their PE curriculum, the students selected to take indoor cycle classes at CycleBar Castle Pines every Monday and Wednesday for six weeks.
Hydrated with water and fueled with a light snack, the students and the middle school staff members participated in 12 beginner classic cycling sessions. This classic style ride had something for everyone, including a mix of strength, endurance, spinning challenges, hills and drills. Dressed in fitness attire, the class rode in unison in private classes for 50 minutes during their regular scheduled PE class.
Indoor cycling has a multitude of health benefits. Along with burning calories and building endurance, a person is able to improve their cardiac endurance for a healthy heart while going at their own pace and being a part of a community that feels like a team. DCSM middle school science teacher Nicole Gassman expressed, "It was a great experience for students to attend CycleBar classes." In addition, many community members mentioned to Gassman it was great to see students out in the community participating in rigorous exercise. Gassman added, "This opportunity was a positive experience for everyone."
Montessori philosophy is about freedom of choice, and throughout the school year, students were provided different activities to engage them in different environments. These middle school students will have their choice of dance (provided by Starstruck Academy of Dance) or kickball for their next six weeks of PE classes. Which would you choose?