Rock Canyon High School After Prom levels up
May 1, 2017
/
/
Comments Off

on Rock Canyon High School After Prom levels up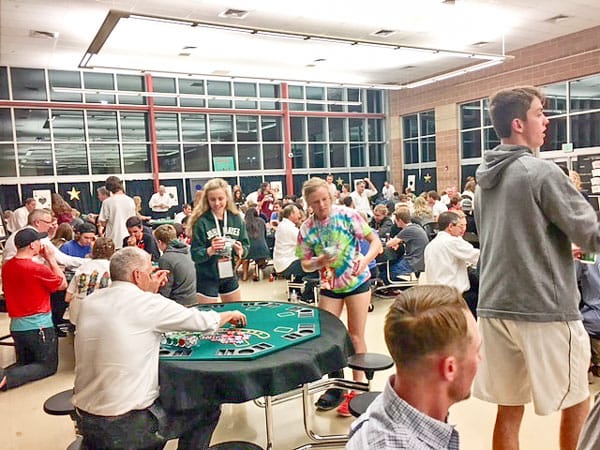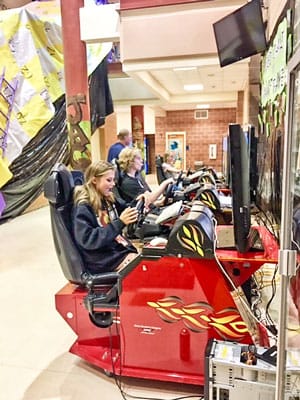 Students enjoy some of the many game-related activities offered at Rock Canyon High School's After Prom, held on April 8 to provide a safe environment after the prom.

By Riley Busch, RCHS intern writer; courtesy photos

This past month, many high school students within the Castle Pines community donned tuxedos and flowing dresses and embarked on a journey imperative to the high school experience. To many, prom is a night of exceptional food, fun and enchantment; however, statistics list prom as one of the most dangerous nights for teenagers. To counteract this trend of dangerous activity, Rock Canyon High School (RCHS) held yet another spectacular After Prom full of life, entertainment and ingenuity on April 8.
Upon entry into RCHS, students were greeted with many bright props, posters, streamers and displays, foreshadowing the delight to come. This year's theme, "Game Night," presented many different opportunities for a plethora of activities and entertainment. A wide selection guaranteed that every student found an activity to participate in. Attractions ranged from movies and massages to laser tag and a variety of board and video games. After nearly four hours of excitement, many students left exhausted yet satisfied with the night's events.
Of course, After Prom has accomplished more than entertainment over the years; its anti-drinking-and-driving campaign and strong safety messages have drastically reduced prom-related injuries and fatalities in the Rock Canyon area. RCHS junior and Castle Pines resident Derek Smith stated, "There are a lot of problems following prom. It can be a pretty dangerous night for some people, and After Prom is a pretty socially-open area for people to have fun and communicate." Promotional posters and early ticket sales around campus yielded much reward, with nearly 80 percent of upperclassmen in attendance on the night of the event. These messages also appear to be reaching more teens across Douglas County, creating a safer and more united community.
"It is so important to ensure our children have a safe, drug and alcohol free environment for after prom. RCHS has the distinction of holding the largest After Prom event in Douglas County. Our success has been due to the generous support of our wonderful community," stated After Prom chair and head coordinator Heidi Wing. Copious amounts of extensive planning are needed each year to coordinate such a prized and respected event, and volunteers and coordinators spent countless hours transforming RCHS for its students. Congratulations on another successful After Prom Jaguars!