Rocky Heights students come to aid of fellow classmate
June 1, 2015
/
/
Comments Off

on Rocky Heights students come to aid of fellow classmate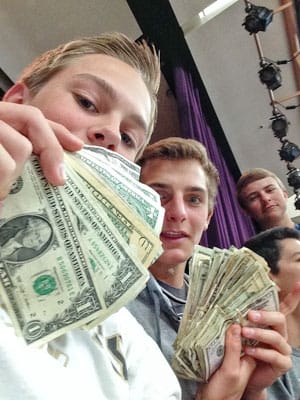 Brad Hansen (center) collected donations during school lunches. He was aided by his friends Cooper McNeily (left) and Lance Opp (far right).

Submitted by RHMS students Amber St. Laurent and Shayna Smith; photos courtesy of Brad Hansen and Jack Thompson
"It was really awesome… It was really fun," said the star and recipient of the Rocky Heights Middle School (RHMS) fundraiser Keaton Miller (circled in photo to the left). Miller is an eighth grade student who attends RHMS and is partially blind. Being partially blind makes learning difficult for him, so he has to be pulled aside from class, causing him to often fall behind.
Fellow students from RHMS put together a dodgeball tournament that served as a fundraiser in order to raise money to get Miller a Visiobook, a portable electronic magnifier and distance viewer. This will help Miller follow along in class, instead of having to be taken from the classroom.
Eighth grade students and Castle Pines Village residents Jack Thompson and Brad Hansen came up with the idea to start this fundraiser for Miller. "My friends and I really wanted to do a fundraiser and we talked about different people and organizations to help," remarked Hansen. "Finally a teacher of ours mentioned how Keaton was in need of a Visiobook, and we thought this was a great opportunity to help him."
The dodgeball tournament was advertised on Nighthawk TV and throughout the school to let everyone know they were free to play or join the tournament, which took place in May. They raised $3,050, which is almost enough to purchase a Visiobook. One of the students that attended the dodgeball tournament was Nate Lentz who said, "It was a really good thing that we did for him, so I thought it was a good use of time." Organizer Thompson stated, "It was a great experience. It was a lot of work at first, but it was for sure worth it."
Even though it was a bit hard starting out, the boys pushed forward and a kind idea turned into a huge success. Miller received his new Visiobook at an 8th grade team assembly just prior to the end of the year. He will now be able to carry it from class to class easily, allowing him to have more fun interacting with his friends in the classroom. Every person who helped participate in the fundraiser feels wonderful knowing they made a difference in Miller's life. This will definitely be a memory students never forget and will be something to benefit Miller for years to come. Everyone loved being supportive of Miller, and they loved being able to help one of their friends.