Romar West Neighborhood HOAs Join Together for Landscape "Makeover" Project Focused on Conservation
June 1, 2006
/
/
Comments Off

on Romar West Neighborhood HOAs Join Together for Landscape "Makeover" Project Focused on Conservation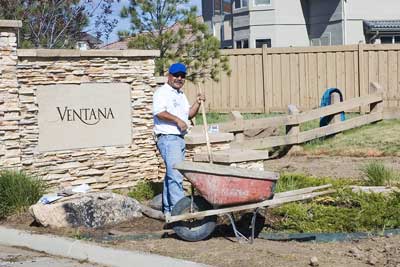 by Carin Kirkegaard
Teamwork along with a sense of community pride can accomplish a lot when a group works together. In Romar West, located in the Daniel's Gate area, it could not be more evident.
As one of Castle Pines North (CPN) newest developments, the Romar West Neighborhood Association has more than 275 homes and represents five neighborhoods including: Jasper Pointe, Turquoise Terrace, Ventana/Amber Ridge, Topaz Vista and Vacquero. Since construction began in 2000, Mother Nature and construction have taken a toll on many of the common areas, leaving a great need for general repairs.
Recognizing this need, the combined Boards of Romar West, Turquoise Terrace, and Ventana/Amber Ridge formed a landscape committee to prepare a scope of work and solicit bids. The areas for improvements included the round-about at the intersection of Grigs Road and Daniel's Park Road, as well as the landscaped entrances to each neighborhood.
With a total approved budget of more than $75,000, Horizon Landscape and Irrigation of Denver went to work. The project included additional trees, perennials, annuals, and assorted cobblestone and smaller rock. In addition, all flower and annual beds were cleaned and replaced with a color resistant mulch designed to meld to the ground and resist wind and rain erosion.
All choices of plants were selected based on drought resistant capabilities and an emphasis on those varieties that would withstand the strong winds and temperature variations that are common in Daniel's Gate.
Looking to conserve water, the project also evaluated the original irrigation and drip system that was installed five years ago. "This project provides a great opportunity to thoroughly test the system and to repair any irrigation system leaks; therefore, reducing water waste and annual water costs," said Patrick Brierley, Romar West Board Vice President.
The residents of all the neighborhoods in Romar West invite all of CPN to tour the area. The Romar residents are very proud to be one of the newest parts of the CPN community and look forward to showing the rest of the community what can be accomplished with a little teamwork!