RTD for CPN? The Cost of Expanding Light Rail South
February 1, 2009
/
/
Comments Off

on RTD for CPN? The Cost of Expanding Light Rail South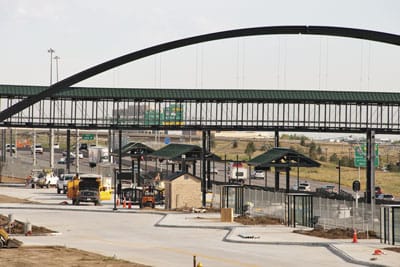 by Lane Roberts
With the expansion of the service road along I-25 from RidgeGate in Lone Tree to Castle Pines Parkway, the addition of the Regional Transportation District's (RTD) light rail to this area might be considered a plus for the new city.
However, expansion of the RTD light rail may be light years from coming to Castle Pines North (CPN.)
"There are no plans to go south of Lincoln Avenue in the foreseeable future," said O'Neill Quinlan, RTD board member. Quinlan has served RTD District "G," which includes the I-25 corridor and adjacent portions of Douglas and Arapahoe counties, for the past eight years.
Quinlan says plans for Lone Tree's RidgeGate development call for additional light rail stops; however, RTD says it will be 2016 before the project is completed. Three proposed light rail stations are slated for RidgeGate, including an "end-of-line" station at the planned RidgeGate Parkway interchange. How does a city pay for light rail? According to Quinlan, voters of the city must approve a one percent retail sales and use tax in order to become part of the RTD district.
The Town of Castle Rock rejected a proposal to expand RTD service to their town in a 2005 election.
"Castle Rock made the right decision," said Quinlan. "Light rail will never go to Castle Rock; it is physically impossible because it does not do well on the grades that go to that area. They would have only been able to have RTD bus service."
According to Quinlan, the socioeconomic status of a city is always reviewed before RTD looks at expanding into a city. CPN, listed recently by the Denver Business Journal as "one of the wealthiest zip codes" in the Denver-metro area, does not "fit the bill" for the typical RTD bus commuter. "Most CPN residents probably don't want buses running through your community," said Quinlan.
Quinlan says even if CPN voters decided to join the RTD district, it could be 15 years or more before the city could actually get light rail service. "We would collect your sales tax money and you would get lousy bus service," he said.
He estimates the cost to bring light rail to CPN would be approximately $10 million.
Quinlan's term as RTD board member ended in January. He was recently replaced by Jack O'Boyle, former Mayor of Lone Tree, elected last November.
RTD General Manager Clarence Marsella sent a response on behalf of O'Boyle, stating that annexation procedures are set by Colorado statute. "As the RTD enabling legislation now reads, an area seeking annexation to RTD must be 'contiguous to any boundary of the District,'" writes Marsella. "Your area to be considered for annexation would most logically need to be contiguous to the southern boundary of Lone Tree." He says the process to become part of RTD must be "initiated by the landowner(s) or the municipality."
The Castle Pines Connection sent an e-mail request to City Treasurer Doug Gilbert regarding the possibility of bringing RTD to CPN. City Communications Manager Kara Choquette provided the following comment on Gilbert's behalf: "The City believes that light rail is a concept worth discussing. At its January 28 study session, City Council is slated to address possible participation in Regional Transportation Authority formation discussions. However, until council members have had the opportunity to discuss the issue together, it would be premature to offer further perspective."
Steve Boand, Douglas County Commissioner for District II which includes CPN and surrounding communities, says he would not "rule out" the possibility of RTD moving further south, despite the topography.
"When the City of Castle Pines North becomes more financially stable, I'd like to talk with them about getting us all [CPN, Castle Pines, The Canyons, Lone Tree, and Castle Rock] together to discuss a regional transit center," said Boand.
Share your thoughts on bringing RTD to CPN. Send comments to editor.