Running with Ralphie a thrill known by few
October 1, 2016
/
/
Comments Off

on Running with Ralphie a thrill known by few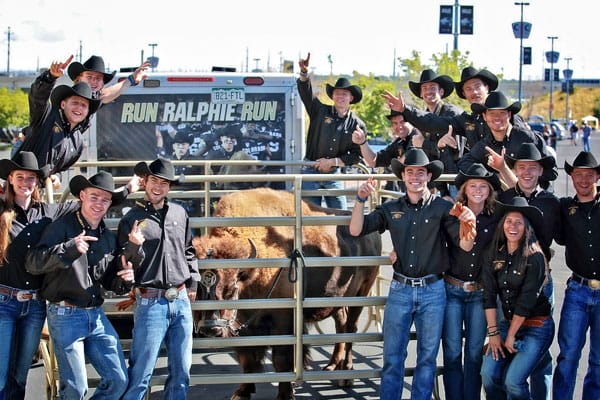 By Lynn Zahorik, photos courtesy of Peter Burke
The star of every University of Colorado (CU) football game is without a doubt Ralphie the buffalo mascot. One of the most popular and recognized college mascots in the nation, Ralphie has been a part of CU game day lore for nearly half a century. Most fans are surprised to learn Ralphie, a 1,200 pound bison, is actually a female chosen for her size and temperament. She is a symbol of Buff pride and is best known for leading the football team across Folsom Field on game day by a team of varsity student-athletes called Ralphie Handlers. A fan favorite, visiting teams regularly leave their locker rooms to get the rare chance to watch Ralphie's impressive pregame run and halftime gallops. She has been known to reach speeds of up to 25 mph during her runs.
CU sophomore Keane Lyle had no idea that his track conditioning and training would one day assist him in landing a spot as one of Ralphie's handlers. A former MVP on the Rock Canyon High School track team, Lyle excelled in running the 400 and 800 meters and being a part of the relay teams. This spring, he and more than 50 other students tried out for a coveted spot on the handler team. They chose only six new handlers to round out the crew of 15.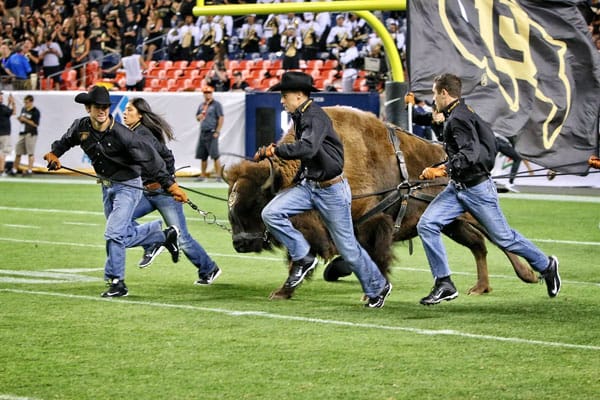 Keane was honored to be chosen as a part of this great tradition which allows him a very unique way to represent his school. He admits it is a big time commitment, sometimes devoting up to 30 hours per week to the program with strength and conditioning workouts, practicing, showings and games. The Handlers do earn a varsity letter for their time on the team. Though not a part of the NCAA, the athletic department does hold them to the same standards as all CU varsity athletes.
" I am very privileged to be a part of this team and this tradition," stated Keane. "It is a small group of people that will ever be a part of this program so I feel very lucky to have this opportunity." He has quickly learned through his time with Ralphie that you can never underestimate the bond between man and buffalo.
The next time you head to Boulder to watch the Pac 12 Colorado Buffaloes football team, be sure to be in the stands early. You will want to see Ralphie, THE Colorado Buffalo, majestically bolt across Folsom Field and perhaps Keane will be alongside holding onto her lead rope.

RCHS Alum Keane Lyle