School funding impacts kindergarten options
August 1, 2019
/
/
Comments Off

on School funding impacts kindergarten options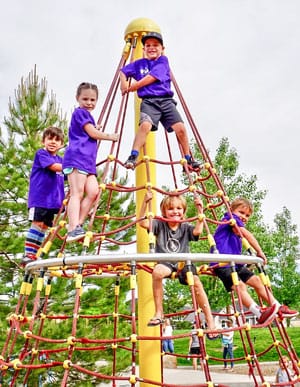 Carefree and enjoying the final weeks of summer, incoming kindergarteners play on the equipment at Elk Ridge Park before a T-ball game.
Article and photos by Carin R. Kirkegaard
In Castle Pines, summer is drawing to a close for those with school-aged children. The Douglas County School District (DCSD) first day of school is August 7. This year, kindergarteners have the option to attend a full day of school – at no additional cost.
In May, Governor Polis signed House Bill 19-1262 into law ensuring state funding for full-day kindergarten across Colorado, including the elementary schools in Castle Pines. Colorado will join the majority of states in prohibiting schools from charging parents tuition for full-day kindergarten as long as the legislature continues to fully fund the program.
Although the state will provide funding, it is not mandatory for districts to only offer, or for students to only enroll, in the full-day program. Many Colorado schools, including those in Castle Pines, will still offer half-day kindergarten.
All students will start their day at the same time. Core curriculum will remain the same, hitting on all the academic requirements in the morning. Half-day students will then be dismissed. In the afternoon, students will attend gym, art and music as well as join the upper grades at lunch.
According to Timber Trail Elementary teacher Jessica Petau, the social piece provided in an all-day classroom is invaluable. "The students get to experience different teachers, social situations and classroom environments." A longer day can be an adjustment. "Stamina is a huge component and our curriculum incorporates taking brain breaks throughout the day." Petau said.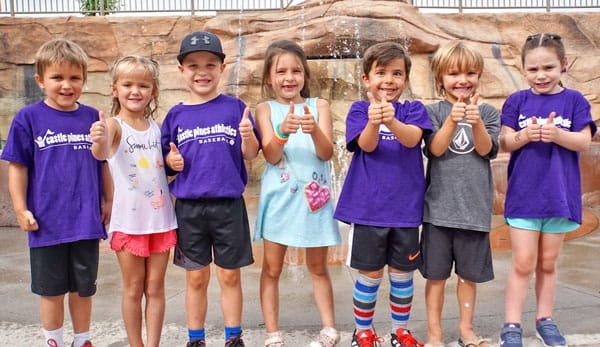 Some students from the incoming 2019-2020 kindergarten classes at American Academy, Buffalo Ridge and Timber Trail all met at Elk Ridge Park over the summer. Pictured left to right are: Kaiden T., Lily B., Cal M., Casey F., Jackson R., Marvin K. and Hallie D.

Every DCSD student starting kindergarten in the fall needs to be age 5 by October 1. If a student's birthday falls on September 30 the student will be 4 when school starts. Parents with younger students indicated concern for consecutively longer days.
The McNeil family is sending their youngest daughter, Zoey to Buffalo Ridge Elementary. She turned 5 in July and will be one of the younger students. While her mom, Celeste, does have concerns for the longer days, she said Zoey is excited to eat lunch at school and ride the bus with her older brother. Celeste said she would miss her. Zoey responded, "Mom, I'll miss you too, but I'll come home from school every day!"
Mary Kasal, another kindergarten parent said, "We're fortunate our kids have access to such an incredible education and think it's vital that full-day kindergarten isn't subject to financial constraints and is available to everyone."