School Overcrowding in CPN – How the School District Plans to Solve the Problem
October 1, 2008
/
/
Comments Off

on School Overcrowding in CPN – How the School District Plans to Solve the Problem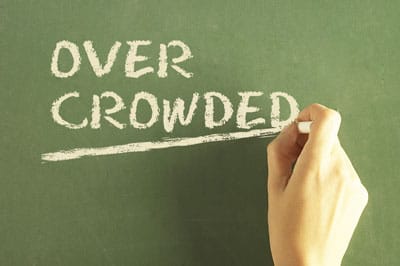 by Lane Roberts
Prior to the Lagae Ranch re-zoning public hearing in late August, a letter distributed by the Douglas County School District (DCSD) brought attention to the serious overcrowding issues that currently exist in Castle Pines North (CPN) area schools.
The letter, distributed via e-mail to parents with children at Buffalo Ridge Elementary (BRE), Timber Trail Elementary (TTE) and Rocky Heights Middle School (RHMS), listed the "possible impact" of the Lagae Ranch development as "busing children out of the community." The letter also stated the BRE would go on a four-track schedule in the "near future."
The Connection recently interviewed DCSD Chief Operating Officer Steve Herzog to determine the District's potential solutions for eliminating overcrowding in CPN schools.

Will BRE go on a four-track calendar?
Herzog says BRE needs between 580 and 600 children before going on a four-track schedule. According to the DCSD web site, enrollment at BRE is 562 students as of August 8.
"Next year, if Buffalo Ridge is at 580 children it would still be two years before we could get something built," Herzog said. "Our dilemma is that we are land poor in this area."
Currently, the DCSD has two school site locations in the CPN area. The DCSD will not use the Hidden Pointe school site due to the close proximity to the Xcel power line corridor. The DCSD also owns a 25-acre school site in Castle Pines Village near Santa Fe Boulevard.
Could the DCSD put an elementary school on the site in Castle Pines Village? Herzog says the site is slated for a future middle school. "We hate to use this site for an elementary school; it is hard to get large amounts of land." DCSD middle schools house 1,050 students and need ball fields.
In 2005, the DCSD moved sixth graders at both TTE and BRE to RHMS in an effort to reduce overcrowding issues in the elementary schools. BRE went from four-track in 2005 to a traditional calendar schedule. Now, three years later, Rocky Heights has more than 1,200 students.
"Right now, Buffalo Ridge will most likely go four-track," said Herzog. "I don't know what the impact of American Academy will be on the community, but we hope that the school will take 20 percent of the kids."
American Academy, a K-8 public charter school, plans to return home to CPN in 2009 and is building a new 83,000 square foot facility on the Lagae Ranch development. (Read more about American Academy and the enrollment process to the right.)

Will children be bused out of CPN and sent to other schools?
According to Herzog, if a school has more than 830 children, the DCSD will look seriously at "overflow busing."
The DCSD web site lists TTE enrollment at 639 students as of August 8. Herzog says by 2012, TTE could have 800 students. "We know it will continue to grow and we are trying to project out five years," he stated. The DCSD uses demographic track systems and other data from Douglas County to project growth.
According to Herzog, the DSCS has overcrowding issues in both the CPN area and the south portion of Highlands Ranch in the Wildcat area. For example, Redstone Elementary in Highlands Ranch has 760 students and is projected to have 800 next year. The DCSD is considering busing these students to other schools.

Plans for Future Growth
The DCSD is looking at other potential school sites around the CPN area in The Canyons, east of I-25 at CPN, and on the South Lagae Ranch parcel, owned by Jack Vickers.
Also under consideration is a school site in the Open Space Conservation Area (OSCA) also known as the Back Country Wilderness Area. This 8,200-acre area located off Monarch Boulevard between CPN and Highlands Ranch is currently owned by Shea Homes, but will be transferred to the Highlands Ranch Community Association. The DCSD hopes to have a school site near the proposed Wildcat Regional Park area.
Herzog says negotiations are underway for a parcel somewhere along Monarch Boulevard. "We hope we can carve out a school site there," said Herzog. "It would help both the north end of Castle Pines North and South Highlands Ranch."
The DCSD has a $395 million bond initiative on the November ballot. How will this bond directly benefit CPN-area schools?
Herzog says the bond will potentially mitigate overcrowding in CPN schools with the building of another school north of CPN on Monarch Boulevard.
The bond initiative would also support BRE, TTE and RHMS be providing improvements to the wide area network connections. If the bond passes, renovations are also slated for BRE including a new roof, new infrastructure pieces, and other 15-year upgrades.