Sheriff Weaver wants your eyes and ears to prevent unlawful solicitation
August 1, 2009
/
/
Comments Off

on Sheriff Weaver wants your eyes and ears to prevent unlawful solicitation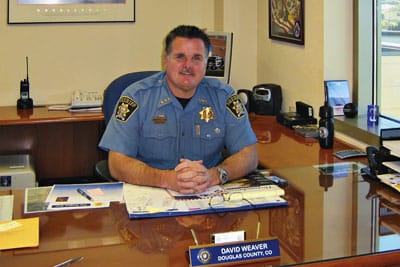 Douglas County Sheriff David A. Weaver
Information submitted by Douglas County Sheriff's Office
It seems that when we have nice weather we tend to see an increase of door-to-door salespeople in our Castle Pines neighborhoods. Many of these people are legitimate employees trying to advertise their business. Unfortunately, many of these people can be con artists posing as solicitors and may be trying to look for ways to victimize those who live in Douglas County.
The best way to combat these criminals is to be familiar with the crime prevention tools necessary to defend against them. These tools include your eyes and ears and, of course, your ability to call law enforcement.
Unincorporated Douglas County, as well as the City of Castle Pines North, does have an ordinance that addresses what solicitors must do in order to go door-to-door and sell their wares.
Businesses and individuals that want to solicit in the Castle Pines community must apply for a solicitor's permit. This permit must be worn at all times while the person is soliciting.
This permit is not required for legitimate non-profit organizations, but they must carry something that proves they are soliciting for a non-profit. Solicitors are allowed to solicit with a permit in public neighborhoods. If the area has been designated private and/or is a gated community, the solicitor may not solicit without permission from the neighborhood.
We suggest that if a solicitor comes to your door, you should ask to see their solicitor permit. If they do not have one, tell them that they need the permit to solicit in Douglas County. These permits can be obtained at the Sheriff's Office.
Unfortunately some criminals will pose as solicitors so their presence in a neighborhood may not be questioned. This is where the Sheriff's Office needs your help. If you see a person, vehicle, or situation that you think is suspicious, report it right away.
If you see someone who appears to be posing as a solicitor trying to open someone's front door or going to the back of the house, call law enforcement right away – 911. You could be witnessing a break-in. These criminals look for the best opportunity to commit these crimes; let's not give it to them.
When it comes to your own house, you can help reduce this crime of opportunity by engaging in effective target hardening of your property.
By following these tips, you can reduce your chances of being victimized:
Install dead bolt locks on all exterior doors and self-tapping screws in the upper track of patio doors and windows
Lock all doors and windows when going out
Secure all basement and ground level windows and patio doors
Take an inventory of your possessions, especially all electronic equipment and tools
Do not leave purses and valuables in sight of people at your front door
Keep garage door closed even if you are at home
Do not rely on a security system to protect you. Security systems should only be used as an addition to other security measures.
Do not hide spare keys outside
If you go on vacation, have a trusted friend or neighbor pick up mail or newspaper.
Have them stop by often to check on your house.
Start a Neighborhood Watch program on your street.
Remember, the community is the foundation of crime prevention. We need your help in reducing crime.