January 1, 2011
/
/
Comments Off

on Sled Hill Reminders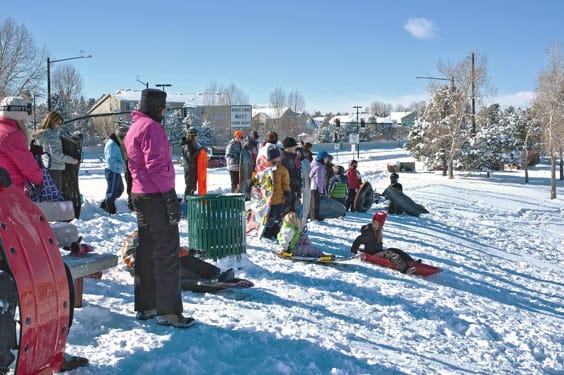 Sled Hill Fun
The popular sledding hill at the corner of Monarch and Castle Pines Parkway draws kids and grown-ups whenever a dusting of white appears.
But, only a sidewalk separates the top of the hill from the busy street.
Please drive slowly whenever you near the intersection of Monarch and the Parkway on snowy days.
You never know when a youngster will jump into the path of a car, either from the hill itself, or when crossing Monarch to where cars park on the northwest corner.
Also, please obey the "No Parking Anytime" signs at the right turn lanes on the Parkway.
Sled Safely this Season
When the first snow falls this year, kids will undoubtedly beg to dig out the sled and visit the popular sledding hill near the intersection of Castle Pines Parkway and Monarch.
The open space at this location is the perfect sledding spot – – a great hill and lots of space for multiple sledders.
The sledding hill is, however, adjacent to two busy streets. Kids waiting to load their sleds often stand on the sidewalk, just a few feet from cars speeding down Castle Pines Parkway.
Please be aware that this danger exists, and make sure children are supervised by an adult at all times when using this particular hill for sledding. Drivers are encouraged to drive the speed limit on Castle Pines Parkway and to use caution when traveling near the sledding hill, especially if ice and snow are on the roadway.
Safe, snow-filled fun
Sled only in areas free of fixed objects such as trees, posts, and fences.

Make sure that all children in sledding areas are supervised by an adult.

Never go down a hill headfirst; sit facing forward and steer.

Use a sled that can steer – it is safer than flat sheets, toboggans or snow discs.

Wear warm and layered clothing to protect from injuries and the cold.

Always, always wear a helmet.

Know how to stop your sled or make a sharp turn by dragging your feet.

Make sure sleds are in good condition and are not broken.

Be sure to tell an adult if you have a crash.
Armed with these guidelines and the proper equipment, sledding this season should be a fun and safe experience.