Students at Rocky Heights Middle School set new fundraising record!
October 1, 2012
/
/
Comments Off

on Students at Rocky Heights Middle School set new fundraising record!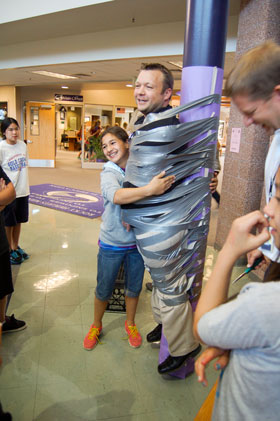 Principal Mike Loitz fully immersed himself in the magazine sale fundraiser by allowing the kids to duct tape him to a post in the lunch room. He also shaved his head and got soaking wet in the dunk tank. "It was all worth it!" he stated.
Article and photos by Amy Shanahan
Rocky Heights Middle School held its annual magazine sale fundraiser for two weeks in September, and the school set a new record in gross sales! The school grossed $94,000, which will net them approximately $47,000 to spend this year.
The magazine sale is sponsored each year by the Parent Community Alliance (PCA) and the members work tirelessly with a large number of wonderful parent volunteers to make it a success. PCA fundraising co-chair Cynthia Martin remarked, "The parents were great, and so willing to help—but that is always the case here at RHMS!" Turn in days, and prize days were chaotic and fun and school spirit was evident as the parents, kids and staff worked together to earn as much money as possible during the school's one and only fundraiser.
The school set a goal of $90,000, and in return for hitting the goal, several members of the administration and staff agreed to shave their heads. Head-shavings took place during lunches, and were filmed and re-broadcast on the school's TV program, Nighthawk Television. Students who participated in the sale had the opportunity throughout the week to win crazy prizes, duct-tape administrators to the wall, and even soak their favorite teachers in a dunk tank.
In October, the PCA will receive grant requests from the teachers and staff and will make the decisions as to how the money earned will be spent. The money from the fundraiser has been used to purchase many important items in the past, including technology equipment, supplemental learning materials, items for the drama and band departments, tools for the special ed department and much more. Principal Mike Loitz remarked, "The money from this fundraiser is so important to our school. It allows us to keep current with our technology and other needs and helps a great deal with our budget. We are so appreciative of our parents and students and their generosity!"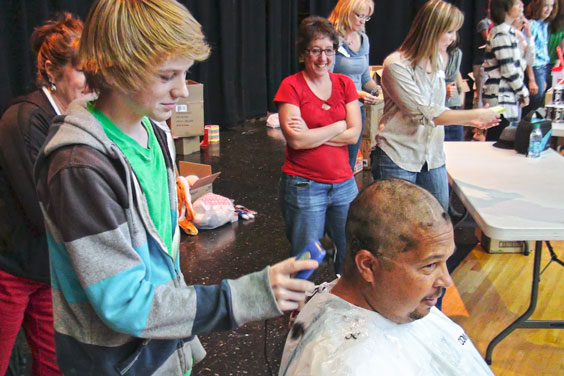 Daren Brown, the head custodian and football coach at RHMS allowed the eighth grade students to shave his head when the school surpassed their goal of $90,000 in the magazine sale fundraiser. Brown is a favorite with the students and his school spirit meant a lot to the kids.