Students search for answers and cures using biotechnology
October 1, 2019
/
/
Comments Off

on Students search for answers and cures using biotechnology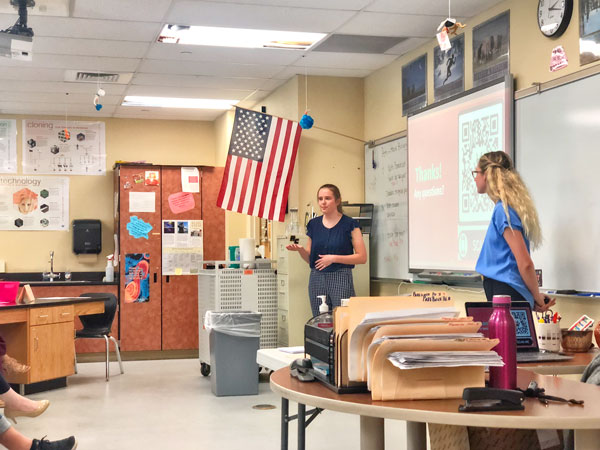 Rock Canyon High School biotechnology students Sabine Manske (left) and Berlin Barnett (right) wrap up their presentation and prepare to answer questions from potential investors.


Article and photos by Jana Seal, RCHS intern writer
In a classroom full of science teachers, parents and researchers, students prepare to present their PowerPoint presentations. These presentations were not an everyday school project, however; they were the beginnings of intensive research projects in biotechnology.
Monday, September 9 through Friday, September 13, students at Rock Canyon High School (RCHS) presented their designs and methods for their research projects.
"The whole process started at the end of last year. The students had to come up with their project idea, and they spent the summer writing kind of the rough draft of their methods," RCHS biology teacher Nikki Dobos said.
When coming up with their project ideas, students reflected on causes that they hope to contribute to. Some students had a personal stake in their research, and some chose topics based on their mentor's area of study. Students pitched research on a variety of real-world, consequential issues such as cancer cells, the effects of Lexapro (an antidepressant) on stem cells, and artificial sugars' effect on insulin, to name a few.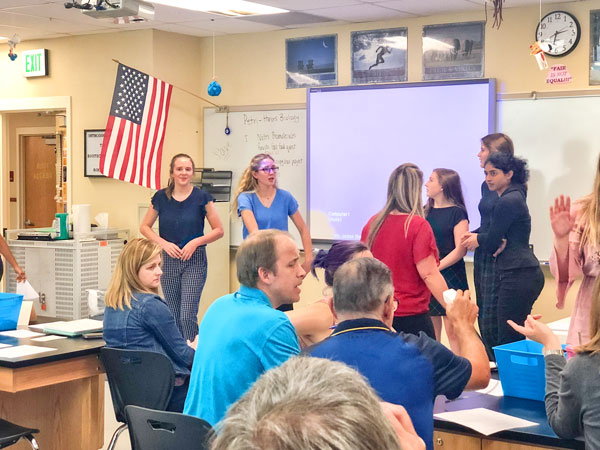 All presenters for the day re-enter the biotech classroom to mingle with the teachers, parents and potential investors.

"I have type 1 diabetes and we are researching the effects of artificial sugars on Islet beta-cell insulin secretion which relates with type 2 diabetes and insulin resistance," biotech student and 80108 resident Ian Fleming said. "So I was inspired to research a topic that was connected with diabetes."
In each presentation, students included the following: Hypothesis, experimental design, proposed methods, experimental flow, control and constant variables, timeline, safety precautions, and their mentors.
The purpose of these pitches was to give researchers and parents the opportunity to ask questions and observe the research pitches as potential investors so that they could consider contributing. Because the projects are so intensive, students, after planning them, were left with a sum of money (around $100-$400) that was needed in order to complete their research effectively. Donations from the RCHS community have improved the quality of their research. At the end of their presentations, students explained their short-term goal, long-term vision, budget, project website, and then opened up for questions.
"Many of these people [in the community] have expertise, and are going to really question your methods and really make you think about those different aspects," Dobos said.